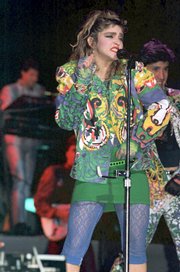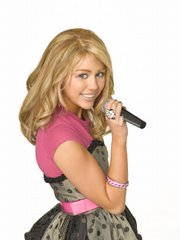 New York — As Miley Cyrus rocks out in the third season of "Hannah Montana," she channels Madonna circa 1985.
And, somehow, on this cute and playful 15-year-old, tiered miniskirts, leopard prints and fingerless gloves look good — so get ready for masses of mini-Montanas to emulate the look of the tween favorite, even if they are too young to know its true origin.
The look was created mostly for Cyrus' on-stage persona Hannah to wear, says costume designer Dalhia Foroutan, but hints of the '80s have crept into most of the cast's wardrobe.
The teenage stars are too young to remember ripped-neck sweatshirts or legwarmers the first time around, but they do think it's cool, she says.
Teen Vogue has shot a lot of outfits with this vibe already for spring, says fashion director Gloria Baume, and the magazine believes in it as a trend going forward. The runway shows of Marc by Marc Jacobs, DKNY and London's Christopher Kane furthered the return to the era of excess.
Here's some tips for how to wear the look in 2008:
• Keep things age-appropriate.
Some '80s styles were too mature for teens — big shoulders and high necklines — even though girls wore them, Foroutan notes. In 2008, you'd be well-advised to tone down some of that or risk looking more "Working Girl" than modern girl.
• Use what we learned the last time around.
A little bit of lace, chunky jewelry and especially those bright colors go a long way.
"A neon jacket with a miniskirt and a leopard belt? That's a no," says Gloria Baume, Teen Vogue fashion director.
• A look from the ages is not necessarily for all ages. So what about adults embracing the trend?
Foroutan warns you at least need a youthful spirit to pull off any of the looks. Without setting a hard age limit, you should take a second look in the mirror if you were old enough to wear to class a "Frankie Says Relax" T-shirt.
Copyright 2018 The Associated Press. All rights reserved. This material may not be published, broadcast, rewritten or redistributed. We strive to uphold our values for every story published.