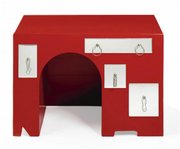 Current prices
Current prices are recorded from antiques shows, flea markets, sales and auctions throughout the United States. Prices vary in different locations because of local economic conditions.
• Shawnee pottery corn holder, Corn King pattern, 8 1/2 inches, pair, $190.
• Cranberry glass pitcher, amber threading, white looping, clear handle, 7 1/2 inches, $225.
• Chicken in car candy container, glass, chicken sits inside egg shell with back portion of car body, embossed "U.S.A.," 1930s, 4 1/4 x 2 1/2 inches, $255.
• Pressed glass decanter, Horn Of Plenty pattern, diamond point stopper, 11 1/2 inches, $ 285
• Bambi Hankies book, 8 pages with story and 4 pockets for handkerchiefs of Thumper, Flower, Owl and Baby Bambi, Copyright 1942, Walt Disney, 8 x 9 inches, $395
• Dagwood Comic Strip doll, cloth-stuffed, linen face, faux fur hair, felt shoes and bow tie, 1940s, Columbia Toy Products of Kansas City, 18 inches, $495.
• New England sawbuck table, maple and pine, breadboard ends, X-form figured maple trestle base, 1890s, 7 feet, $920.
• Indian shooting bear mechanical bank, kneeling Indian shoots coin into bear's chest, 10 inches, $1,610.
• Grenfell Missionary rug, multicolored, two Eskimo figures, Eskimo house on stiles, whales, sailing ship, nets, snowshoes, sled dogs, aqua background, 19 x 26 inches, $3,450.
Modern-style furniture was first designed in the 1920s but did not become "mainstream" until the 1950s.
Paul Frankl, one of the famous modern designers, was born in Vienna in 1886, moved to New York in 1914 and later to Los Angeles. He was an architect, painter and designer of furniture and other household goods.
One of his first "modern" pieces made in 1925 was the "Puzzle" desk. It was unlike earlier European designs with curves and carvings. The Puzzle desk was like a box. Desks were made of painted wood with silver-leafed pine drawers and chromium-plated metal trim in art deco patterns. The drawers were of random shapes and sizes, and because of the shiny, silver finish against the dark background, they created interesting patterns. There were drawers and shelves on all sides.
Later in the 1920s he created the Skyscraper style of wooden furniture. By the 1930s it was being mass produced in metal. Pieces did resemble skyscrapers. Frankl died in 1958.
We have three Bossons wall masks in premium condition. I used your Web site, Kovels.com, to determine a price for two of them, but I couldn't find a price for the third one. It's the 6-inch "Anne Boleyn" mask. Can you help?
W.H. Bossons Ltd. of Congleton, England, made wall masks, plaques, figurines and other decorative ceramics from 1946 until it closed in 1996. The Anne Boleyn mask was issued in 1986 and continued to be made until 1994. Today the mask sells for $80 to $100.
Q: I have a windup tin toy car with a pillar steering wheel. The driver is wearing a red cap and coat and faces the passenger, a little boy in a blue sailor suit. The boy sits in the front of the car and is grabbing the steering column and the father boxes his ears. On the back of the car it says "Lehmann's." Can you tell me what I have?
A: Your toy is called Naughty Boy and was made by Lehmann from c. 1903 until 1940. The little boy in the car is made to look like Buster Brown, and many American collectors call the toy "Buster Brown in Open Car." Lehmann was founded by Ernst Paul Lehmann in Brandenburg, Germany, in 1881.
The company made lithographed tin toys and was known for their innovative mechanical toys. Most of their toys were exported to the U.S. and other countries. Johannes Richter, Lehmann's cousin, joined the business in the 1920s and took it over in 1934 when E.P. Lehmann died. The company was nationalized in 1938 and continued operation in Brandenberg as VEB Mechanischne Spielwaren. Richter re-established the Lehmann toy company in Nuremberg, Germany, in 1950. The company is still in business. Lehmann's Naughty Boy in good condition but without the box it originally came in sells for about $700 to $900.
Q: Can you give me some information about a blown-in-the-mold bottle embossed "Liebig Co's Coca Beef Tonic?" The paper label on the back says "N.Y. Depot: 38 Murray Street." You list a similar bottle in your price list on Kovels.com but yours says "San Francisco."
A: Justus Von Liebig (1803-1873) was a German chemist who made Liebig's Fleischextrakt (Liebig's Beef Extract) in 1840. It was meant to be a substitute for meat and was sold in pharmacies as a tonic. In 1865 the Liebig Extract of Meat Company (Lemco) was founded in London. In 1910 Liebig introduced Oxo beef stock cubes, which are still being made. The Liebig Co. in New York evidently had no connection to the original company. The Liebig Dispensary in San Francisco was in business in the 1890s and made "invigorators" and cures. Many of the tonics popular in the 1880s contained a high percentage of alcohol. An 1887 analysis by the Massachusetts State Board of Health showed that Liebig's Coca Beef Tonic was 23.2 percent alcohol. No wonder it made you feel good!
Q: I have a set of 12 blue and white Wedgwood plates, each with a picture of a building on the campus of Columbia University. They are marked "Columbia College Plates." They were made before 1944. Can you give me a rough idea of what they are worth?
A: Wedgwood began making Queensware plates with college designs in the 1920s. They were especially popular in the 1950s. Hundreds of different college campuses were featured. A complete set from an individual college might include 12 white plates with different campus scenes done in a single color. Some sets included additional items, like cups and saucers and bread plates. Plates were often sold through alumni groups and campus stores. Plates can be dated by the numbers impressed on the back of the plate. The last two digits give the year the plate was made. Single plates sell for $10 to $100, but a complete set of 12 plates sells for several hundred dollars, depending on the desirability of the college or rarity of the plate.
Tip: If you keep wicker furniture inside, be sure to have a humidifier or lots of plants nearby. The wicker will crack if too dry.
— Terry Kovel answers as many questions as possible through the column. By sending a letter with a question, you give full permission for use in the column or any other Kovel forum. Names and addresses will not be published. She cannot guarantee the return of any photograph, but if a stamped envelope is included, she will try. The volume of mail makes personal answers or appraisals impossible. Write to Kovels, (name of your newspaper), King Features Syndicate, 300 W. 57th St., New York, NY 10019.
Copyright 2018 The Lawrence Journal-World. All rights reserved. This material may not be published, broadcast, rewritten or redistributed. We strive to uphold our values for every story published.