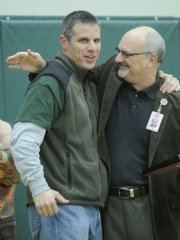 What he assumed was a simple pep rally to pump up students for the Free State High School football semifinal game Friday night ended up becoming a tad more personal and emotional for Chuck Law, the school's head basketball coach.
Students, teachers and family congratulated Law, recipient of the 2008-2009 Lawrence Master Teacher award. They clapped and screamed when Superintendent Randy Weseman announced the surprise award during an assembly just before school let out for the day Friday.
"To receive the honor of this nature, with the quality of the schools and the teachers of Free State is very humbling," said Law, a social studies teacher and former department chairman at the school. "I view this as an honor for the entire district, and just to be fortunate enough to be the representative for Lawrence in this is a great honor."
As part of the award, the district will nominate Law for the Kansas Master Teacher program, sponsored by Emporia State University's Teachers College. The university will announce seven winners in the spring.
"To be potentially in the mix for that kind of honor is quite overwhelming," said Law, who taught at Emporia High School for four years before coming to Free State a decade ago.
Law earned his teaching certificate from Emporia State, which established the Kansas Master Teacher awards in 1953. The awards are presented annually to teachers who have been in the teaching profession "long and well" and who characterize the great qualities of "earnest and conscientious teachers," according to the ESU Web site.
A group of Law's basketball players waited after the assembly to congratulate him on the award. After basketball practice, Law said he was headed to the football game against Blue Valley in Stilwell. Pictures of the Lawrence Master Teacher award winners are displayed at district headquarters.
Copyright 2018 The Lawrence Journal-World. All rights reserved. This material may not be published, broadcast, rewritten or redistributed. We strive to uphold our values for every story published.