High School Spodcasters
Spodcasters Postgame: Free State advances to State championship
The guys (Matt Tait, Jesse Newell) put the finishing touches on Free State football's 14-7 victory over Blue Valley in the State semifinals. So what is the significance of the victory for the school and this team? The guys discuss that, along with the key plays and players that helped the Firebirds to their first football championship game in school history.
Photo Gallery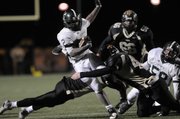 Free State vs. Blue Valley
Stilwell — It wasn't quite deja vu, but it was darn close.
For the second time in two weeks, the Free State High football team saved its best for last, unleashing a 17-play, 80-yard drive that took 8:22 off the clock and gave the Firebirds' a 14-7 victory over Blue Valley in a Class 6A state semifinal contest that propelled Free State into the state title game for the first time in school history.
"We've been trying to knock the door down for 12 years," Firebirds coach Bob Lisher said. "It's gotten a little thinner each and every year, and we finally got through it this year with a hard-fought football game against an outstanding football team."
The final drive was the culmination of a classic clash that featured both teams making mistakes and both teams making big plays. In the end, it came down to the team that executed when it mattered most. There's no doubt that team was Free State.
After holding Blue Valley on a fourth-down play deep in Free State territory, the Firebirds took over with 9:04 to play. On first down, Chucky Hunter was hit hard in the backfield and lost five yards. From that point on, Free State found its mojo, motoring down the field one back-breaking play at a time. Confidence was key on the final drive, as every player in the Free State huddle focused on last week's 90-yard touchdown drive in the fourth quarter against Olathe North that put the Firebirds in this position. FSHS coach Bob Lisher made sure of that.
"I just told them, 'You've done this last week. You know how to finish a game, now let's go finish the game,'" Lisher said. "We didn't do anything different, we just ran the plays we knew could work. We knew that if we could just eat that clock up and put it in the end zone, we'd have an opportunity to win it."
All week the talk surrounding the semifinal showdown focused on whether Free State would be able to stop the high-powered Blue Valley passing attack. The Firebirds answered that question time after time, holding Blue Valley quarterback Anthony Abenoja to 77 yards. He completed six of 22 passes.
"They ran a little bit more than we expected, but we were prepared for that, too, having seen Olathe North last week," said senior Taylor Stuart, who sacked Abenoja on the opening play of the Tigers' final drive to put a serious damper on their hopes of a comeback. "I don't even know what to say, we let a few big plays happen, but for the most part we stepped up when we needed to and did what it took to win."
Lisher credited his coaching staff and the never-say-die attitude of his players for that.
"Coach (Brett) Oberzan and our defensive staff did an great job of coming up with some blitz schemes and some coverage schemes," Lisher said. "We tried to look the same and play different stuff, and I think we did a pretty good job. Our defense played great. To hold that offense to seven points, I didn't think that was possible."
On the stat sheet, the Firebirds dominated the game from start to finish, outgaining Blue Valley 303-164 in total yards and coming up with big play after big play when the game was on the line. Little things such as field position, penalties and momentum kept the game close. But each time the Firebirds were put to the test, they passed with perfect marks.
"When you get into these types of games, you have to have playmakers who make plays," Lisher said. "And it seemed like all night long, when we had to make a play, somebody stepped up and made one."
The list was long.
Junior Keene Niemack had two game-changing interceptions, one deep in Free State territory, the other in the end zone in the third quarter.
Junior quarterback Camren Torneden, who carried the ball 18 times for 123 yards, converted an astonishing eight runs for first downs, including a fourth-and-inches sneak on the Blue Valley 18-yard line with 2:46 to play.
"We had to do it, we needed to do it," Torneden said. "I just looked deep into everybody's eyes in the huddle and I knew we could do it. I knew we were all together. It was just an amazing drive."
And then there was Chucky Hunter. The undisputed front man of the Free State High team, carried the ball 38 times for 170 yards. Fittingly, Hunter scored both Free State touchdowns, one on a two-yard run that capped an 80-yard drive to open the game and the other on a one-yard plunge that capped an 80-yard drive to close the game.
"I wasn't tired. It's cold, but I just wanted them to keep feeding me," Hunter said. "You can't get tired on a night like this because of the significance of the game."
Hunter never did. Even though his 27th carry came with four minutes to play in the third quarter, Hunter found a way to pump out eight more quality carries. When his 38th carry sent him flying over his offensive line and into the end zone from a yard out on Free State's final drive of the night, Hunter popped up immediately and sprinted off the field with one finger in the air.
With the victory, Free State improves to 9-3 on the season and moves one step closer to the first state football championship in school history. Playoff victories over Shawnee Mission Northwest (41-21), Olathe North (10-6) and Blue Valley (14-7) have the Firebirds battle tested.
"We have definitely earned our way into the state championship," Lisher said. "There was no easy game in those three."
Now the focus shifts to finishing the job. The Free State Firebirds will play Junction City (12-0) — a 22-3 winner against Derby on Friday — for the Class 6A state championship at 3 p.m. next Saturday at Washburn University's Yager Stadium in Topeka.
"Just hearing that, I get a big smile on my face," Stuart said.
Directions to Yager Stadium in Topeka, site of the Class 6A football state championship game.
Copyright 2018 The Lawrence Journal-World. All rights reserved. This material may not be published, broadcast, rewritten or redistributed. We strive to uphold our values for every story published.