Photo Gallery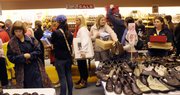 Arensberg Shoes
After 50 years in Lawrence, Arensberg Shoes has a going out of business sale Thursday, Nov. 20 2008.
Shoppers said goodbye to a longtime Lawrence business and took advantage of slashed prices during a going out of business sale Thursday at Arensberg Shoes.
The store at 825 Mass. is closing after being in business for half a century.
Arensberg employee Jessie Sears said about 100 people were lined up in the cold on Massachusetts Street before the store's 9 a.m. opening.
Some customers said they arrived later to avoid the rush, but the store was still crowded.
"It's a zoo, absolute zoo," said Michael Kvasnicka, of Lawrence. "I heard it was ridiculous at about 9, 9:15 this morning, but we got here at 10 so it wasn't so bad."
Kvasnicka, who has been shopping at Arensberg's for the past 10 years, said he was "bummed" about the store's closing.
"It's a Lawrence institution," he said.
Sarah Truelove said she bought most of her shoes form Arensberg's because she preferred shopping at family-owned businesses.
"I was very sad to hear that it was closing," she said. "We really do buy all of our shoes here, and now we don't know where to find them."
The store will be open until 8 p.m. Thursday and is expected to close for good later this year.
Copyright 2018 The Lawrence Journal-World. All rights reserved. This material may not be published, broadcast, rewritten or redistributed. We strive to uphold our values for every story published.