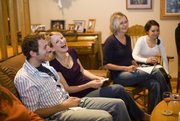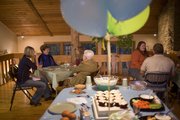 Baby shower blunders: Who wants to make one of those?
Having a baby is a special time for couples, and the expectation is that the shower will be just as special.
As she awaits the birth of her first child, Lawrence mother-to-be Megan Adams has had a flurry of baby showers.
Along the way, she's learned firsthand the etiquette for planning and participating in the fetes.
"I always start out hoping and expecting it to be very laid-back and relaxed," she said. "It's just getting together and having a good time and celebrating what's going on."
That said, some party throwers and partygoers may have questions. Should men attend? How about children? Is serving alcohol a faux pas?
Adams, who has both planned showers and had three of her own in recent months, offered her tips.
For party-goers:
¢ Buy gifts on the registry.
"Unless you know the woman so well that you can pick out something you know she is going to love, I would say buy off the registry," Adams said. "That's why they're there."
¢ If buying off the registry, consider calling the hostess to ask what the expectant parents need.
¢ If you have to leave the shower early, do so discretely. Don't leave at a time when all eyes will be on you, such as during gift-giving or in the middle of a game. Make sure to have a few moments to say goodbye to the expectant mother.
"The good exit does take some time with the mother-to-be, even if it's only 30 seconds," Adams said.
For party planners:
¢ Invite those special guests, even if you know they won't be able to come.
"They always get upset when they don't get invited," Adams said. "So you always make sure to send out those invitations to your great-aunt who won't make it regardless."
¢ To make things as easy as possible for all parties, it's not a bad idea to indicate in the invitation whether it's a party open to children.
¢ If having a child-friendly celebration, have child-friendly foods and a babysitter on hand.
"Children aren't going to want to be up with the adults all the time," Adams said. "Having someone there specifically for them is an excellent idea, both for your sanity and for theirs."
¢ If the expectant mother has dietary restrictions, plan the food those restrictions in mind.
"If she has anything special going on with her pregnancy, like gestational diabetes, you have to take that into consideration," Adams said.
¢ Serving alcohol is taboo.
"One of the big things now is these nonalcoholic mixers that you can make up," she said. "They are pretty drinks and you still feel girlie drinking them, but it's not a cosmo. It doesn't have alcohol in it."
¢ Let the boys in.
Adams' most recent shower was a co-ed celebration thrown by her significant other's mother, Carlotta Hemphill.
"I think that the dads-to-be should be included because they are an important part of the family-to-be," Hemphill said.
Copyright 2018 The Lawrence Journal-World. All rights reserved. This material may not be published, broadcast, rewritten or redistributed. We strive to uphold our values for every story published.