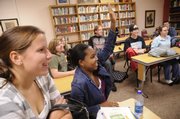 What is anime?
Anime is a popular form of animation in Japan used in film, television, comics, video games and other formats. Thought to have been developed in the early 20th century, it has increased in popularity worldwide, particularly in the last decade.
When it comes to Japanese anime, people seem to either "get it" or forget it.
For a group of Lawrence High School students who are currently part of a long-standing Anime Club tradition at the school, they more than appreciate the animated films, largely from Japanese creators. Some would call the hobby an "obsession."
Amelia Magerl, the club's president, grew up loving animation such as Disney movies and cartoons of the '90s.
"So I guess anime was a way for me to continue watching animation, but the story lines are more geared toward an older audience," she says. "It's the older teen appeal combined with the animation I've always loved."
At least 20 students meet Thursdays after school to watch movies. Magerl takes a vote on the previous week's film suggestions and chooses two for the next week. Wasting little time, the group quickly turns off the lights and starts a short anime film.
If a novice were to walk in on the scene, it could feel like you weren't in on the joke.
The students laugh at "cheesy violence" or the dubbed voices. They explain martial arts moves or comment on a detail.
"It's just a bunch of people who know what you're talking about," says Kirby Evers, 17. "I mean, you can make a joke and people actually understand it. If you go to your friends who just know video gaming ... or sports, they aren't going to know anything about this. You make a sports joke to some of us, we're going to go huh? What?"
All kidding aside, the students take their anime pretty seriously.
The undercurrent of the club is a shared appreciation of the arts. Several of the students say they are interested in writing, drawing, graphic design and animation, and they say watching anime has inspired them in different ways.
Member Brittany Venzen says she was first introduced to anime by reading the manga cartoon book series in junior high.
"It really inspired me to start drawing," she says.
"First I liked drawing, but I never drew that much," she says. "Now I basically draw every day."
Copyright 2018 The Lawrence Journal-World. All rights reserved. This material may not be published, broadcast, rewritten or redistributed. We strive to uphold our values for every story published.