Audio Clips
2008 KU-Texas football
-->
Photo Gallery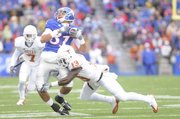 KU vs. Texas
Injuries hamper Jayhawks
As if playing the nation's fourth-ranked team wasn't difficult enough, Kansas was forced to do it without two of its top players Saturday at Memorial Stadium.
In a season in which they've gone significant stretches without standout receiver Dexton Fields, cornerback Kendrick Harper and defensive tackles Caleb Blakesley and Richard Johnson, Jr., the Jayhawks also might have lost leading rusher Jake Sharp and receiver and Biletnikoff finalist Kerry Meier to injuries.
Sharp left Saturday's 35-7 loss at the start of the second quarter due to an undisclosed injury, and Meier, who has appeared hampered throughout the second half of the season, limped off the field shortly after.
Sharp, who entered the game having rushed for a team-high 737 yards and 10 touchdowns, was taken to the locker room shortly after leaving the field. He later returned to the game in the third quarter, but played sparingly, finishing with just six carries for 11 yards.
"We tried in the second half, and he wasn't able to go," Kansas coach Mark Mangino said. "And I don't know exactly if this is a long-term thing or not. I'll know more about it when I visit with the trainers and they get a good look at him."
Meier, meanwhile, had to be helped from the field after catching a second-quarter pass, a setback that left quarterback Todd Reesing without his most consistent receiver.
Afterward, however, Mangino refused to use the injuries as an excuse for his team's performance Saturday.
"Guys are going to get hurt," he said. "So I don't want to hear about that. Every team's got people getting hurt."
Texas spoils another Senior Day
Memo to the Kansas athletic department: Historically speaking, Texas does not make for the best Senior Day matchup.
Since the inception of the Big 12 in 1996, Kansas has gone 8-5 on the final home game of the season, and in four of their losses, the Longhorns have been responsible.
The fact that the loss came to Texas, however, didn't seem especially pertinent to the team's seniors following the game. The fact that they'd failed to close their careers at Memorial Stadium on a winning note at all was enough to inspire some not-so-happy emotions.
"It'll probably all sink in when I leave here," said a visibly distraught Ryan Cantrell, a senior center. "Knowing that I won't be putting the blue jersey on anymore here at Memorial."
UT safety taken to hospital
Texas safety Blake Gideon suffered what appeared to be a serious injury midway through the third quarter after colliding helmet-to-helmet with Kansas running back Angus Quigley.
After the hit, Gideon lay on the ground motionless as members of the Longhorns medical staff gathered around. The game was delayed several minutes, although Gideon, who appeared dazed, was eventually able to walk off the field with the help of teammates.
Gideon was taken to a hospital afterward, although the extent of the injury was not disclosed following the game.
Copyright 2018 The Lawrence Journal-World. All rights reserved. This material may not be published, broadcast, rewritten or redistributed. We strive to uphold our values for every story published.