Audio Clips
2008 KU-Texas football
-->
Photo Gallery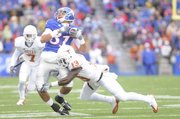 KU vs. Texas
-->
-->
5:00 p.m.
Audio clips have been posted on the left side of this page. Here are a few other notes:
¢ KU set a new home attendance record this year, averaging 50,907 fans in seven home games. The previous record was 46,784 fans per game set last year.
¢ Todd Reesing now has 3,200 passing yards this season, which is the second-highest total in school history. Reesing is just 286 yards behind his school-record passing total from last year (3,486 yards).
¢Dezmon Briscoe has had at least 100 yards receiving in five games this year.
¢ Kansas' seven points is the lowest total since scoring three in a 19-3 loss to Oklahoma in 2005.
¢ Texas has won seven consecutive games against the Jayhawks. The Longhorns lead the all-time series 7-2.
¢ Colt McCoy won his 30th game as the starting quarterback for Texas, tying Vince Young's school record.
FINAL, Texas wins 35-7.
Colt McCoy threw for 255 yards and rushed for 78 more, leading the Texas Longhorns to a 35-7 victory over Kansas on Saturday at Memorial Stadium.
Texas (10-1, 6-1 Big 12) led 14-0 at the break and took control shortly after halftime, posting 21 third-quarter points to open up a 35-7 lead.
KU, meanwhile, couldn't get anything going offensively in the first half. The Jayhawks had nine first-half rushes for just three yards and finished the half with just 99 yards of total offense.
The KU defense kept things close with a strong first-half effort. In the first five UT possessions, KU's defense forced two punts, a turnover on downs and a fumble. The Longhorns went on to score TDs on four of their next five possessions, not including a one-play drive at the end of the first half.
McCoy rushed 16 times for 78 yards with a TD. He also completed 24 of his 34 passes and had two touchdowns through the air.
Todd Reesing, who faced constant pressure, was 25-of-50 for 258 yards with a touchdown and no interceptions.
Jocques Crawford led KU with 42 yards rushing on seven carries, most of those coming in fourth-quarter garbage time. Angus Quigley had five carries for 28 yards with two lost fumbles.
Jake Sharp left the game with an apparent injury in the first half and didn't return to thte field much after that. He had six carries for 11 yards.
As a team, KU finished with 47 yards rushing on 24 carries.
Dezmon Briscoe paced KU's receivers, catching nine passes for 115 yards. Dexton Fields had KU's only score, a seven-yard TD reception in the third quarter.
The Jayhawks (6-5, 3-4) will end their regular season Nov. 29 in the Border Showdown against Missouri at Arrowhead Stadium in Kansas City, Mo.
1:04 left in fourth quarter, Texas leads 35-7.
After a 17-play drive, Reesing was swamped on fourth down for a sack, and Texas will take over.
7:17 left in fourth quarter, Texas leads 35-7.
Texas picks up two first downs before punting it away. KU will take over at its own 15.
12:11 left in fourth quarter, Texas leads 35-7.
After two first downs, KU stalls at the Texas 38, and Rojas's punt drops nine yards deep in the end zone for a touchback. The special teams for KU have been atrocious today.
10 seconds left in third quarter, Texas leads 35-7.
Texas wide receiver Brandon Collins being covered by KU linebacker James Holt is a mismatch, and Collins showed it by burning Holt on a 36-yard TD catch on a post route down the middle. About 1/3 of the original KU fans remain at Memorial Stadium.
1:21 left in third quarter, Texas leads 28-7.
Quigley fumbles on an inside run, and Texas recovers. The exits are filling with cold fans.
2:33 left in third quarter, Texas leads 28-7.
Colt McCoy calmly takes UT down the field, scrambling 24 yards up the middle before completing passes of 11, 10, and finishing the drive with a nine-yard score to Cosby. The key play once again was a penalty, as Thornton was whistled for a pass interference on a 2nd-and-10 to give the Longhorns a free first down.
5:30 left in third quarter, Texas leads 21-7.
Quigley has given KU some energy, delivering another blow on a six-yard run before throwing a key block that set up a 15-yard pass-interference call on Texas. The drive stalls just inside UT territory, though, and a shanked punt by Alonso Rojas give the Longhorns the ball at the KU 27.
6:55 left in third quarter, Texas leads 21-7.
Play has been stopped for Texas safety Blake Gideon, who was bowled over by KU's Angus Quigley on a nine-yard run. The medical staff is taking him off slowly, as it looks to be a head/neck injury.
7:06 left in third quarter, Texas leads 21-7.
KU's defense (and the suddenly loud crowd) step up to the challenge, and on 3rd-and-6, Cosby drops a pass that would have been close to the first down. After a booming punt with the wind, KU will take over at its own 20 against a strong wind.
7:46 left in third quarter, Texas leads 21-7.
KU gets a spark from Dezmon Briscoe, who makes a circus catch on a 4th-and-11. After going up over the defender to tip the ball up to himself, Briscoe pins the ball with one hand against his helmet to ignite the crowd and give KU a 26-yard gain. Two plays later, Reesing finds Dexton Fields over the middle for a 5-yard score, and the Jayhawks offense finally shows some life.
10:04 left in third quarter, Texas leads 21-0.
Another pair of KU special teams gaffes, as Jacob Branstetter's kick sails way out of bounds, and UT later converts on a fake field goal at the KU 31 for six yards on a 4th-and-2. On 3rd-and-17, UT converts, as McCoy hits Quan Cosby for a 22-yard gain. Ogbonnaya adds a 10-yard TD run, and KU is in trouble.
HALFTIME LEADERS
Kansas
Rushing
Jake Sharp 4 rushes, 9 yards
Angus Quigley 2 carries, 8 yards
KU had 3 first-half rushing yards
Passing
Todd Reesing 13-for-23, 99 yards
Receiving
Dezmon Briscoe 5 catches, 50 yards
Johnathan Wilson 3 catches, 23 yards
Kerry Meier 3 catches, 14 yards
Texas
Rushing
Colt McCoy 8 carries, 26 yards, TD
Vondrell McGee 2 carries, 14 yards, TD
Passing
McCoy 14-for-19, 122 yards
Receiving
Foswhitt Whittaker 5 catches, 42 yards
Jordan Shipley 4 catches, 36 yards
KU needs to commit itself to the run, even down by 14 points. Three rushing yards won't win many games, and play-action won't work when teams know that you aren't serious about running it.
Great performance by KU's defense in the first half. We'll see if the unit fatigues in the second half as it has in the last few weeks.
Halftime, Texas leads 14-0.
KU follows with a three-and-out, and as a few snow flurries fall at Memorial Stadium, UT runs out the clock to take us to halftime.
44 seconds left in second quarter, Texas leads 14-0.
A penalty once again spurs a Texas scoring drive. This time, it's a 15-yard pass-interference call on Justin Thornton, though the call looked questionable at best. After passes of 19 and 16 yards, McCoy finishes the drive with a 4-yard TD scramble around the right side.
4:30 left in second quarter, Texas leads 7-0.
That didn't take long. A chop block by Jocques Crawford puts KU in bad field position, and Reesing gets blasted on 3rd-and-3 for a 12-yard sack. Three-and-out again for KU's offense.
6:00 left in second quarter, Texas leads 7-0.
Daymond Patterson makes the fourth-down play, breaking up the pass and nearly intercepting it. KU's defense is not to blame for the deficit so far today.
6:35 left in second quarter, Texas leads 7-0.
Justin Thornton makes a big play from the secondary, knocking down a UT pass on 3rd-and-6. The Longhorns look like they will go for it on 4th-and-6 from the KU 34.
7:53 left in second quarter, Texas leads 7-0.
Trouble for KU. On a 2nd-and-2 run, Angus Quigley bowls for the first down, but he loses the ball on the way down. After a review, the officials made the correct call and gave the ball back to Texas. Jake Sharp has been out with an apparent injury, and it hurts KU here, as the Longhorns take over at the KU 38.
9:12 left in second quarter, Texas leads 7-0.
KU's defense once again comes up with a stop, holding UT on a 3rd-and-3 at the KU 45. Mike Rivera is having a big game and seems to always be around the football. It's time for KU's offense to do something (and it wouldn't hurt to mix in a run). The Jayhawks will have it at their own 12 with a strong wind at their backs.
12:11 left in second quarter, Texas leads 7-0.
KU once again comes up short on a fourth down. On 4th-and-1 from the UT 38, the Jayhawks run a play action, and the Longhorns aren't fooled. Reesing's pass falls incomplete, and KU's offense wastes another opportunity. In four possessions, KU has run the ball four times.
13:35 left in second quarter, Texas leads 7-0.
KU's defense steps up to keep the Jayhawks in it, forcing a Texas punt. The big play comes on 3rd-and-11, when James Holt pushed McCoy from behind for a sack. UT punter Justin Tucker tries an Aussie-style, low-flying punt into the tough wind, and the plan backfires. The kick sails out of bounds after going just 11 yards, and KU will take over at the UT 47.
End of first quarter, Texas leads 7-0.
KU had a chance to stop UT on a 3rd-and-4, but third-string running back Chris Ogbonnaya breaks two tackles to advance just far enough for the first down. Bad tackling once again comes back to haunt the Jayhawks.
1:16 left in first quarter, Texas leads 7-0.
KU fails to take advantage of the mistake, stalling on a 4th-and-2 at the UT 26. After getting pressure from the ends, Reesing short-hops his man before throwing his arms down in frustration. KU also had a chance to get a first down on a 3rd-and-1, but an option run by Jake Sharp was stopped for a 1-yard loss.
4:07 left in first quarter, Texas leads 7-0.
Texas' new center David Snow contributes to a turnover. On a third-and-1, Colt McCoy fumbles the snap, and James Holt recovers. KU takes over at the UT 46.
6:19 left in first quarter, Texas leads 7-0.
Three pass plays, six yards and one more punt for KU. After rushing twice for 11 yards on the first possession, the Jayhawks have abandoned the running game already.
7:59 left in first quarter, Texas leads 7-0.
Texas gets its drive going with a penalty. On a 3rd-and-7, Daymond Patterson is called for pass interference when he hits a Texas receiver a half-second early. The Longhorns make it look easy after that, completing passes of 9, 16 and 14 before a 14-yard touchdown run up the middle by Vondrell McGee.
11:38 left in first quarter, Game tied 0-0.
KU picks up a pair of first downs before punting it away. Perhaps most significant is that Kerry Meier left the game with what appears to be a left hamstring injury.
11:40 a.m.
KU will receive. Here we go.
11:35 a.m.
Joe Mortensen was hopping, skipping and jumping as he came out to be recognized as part of the Senior Day festivities. KU will need a pumped-up Mortensen today.
11:33 a.m.
Official weather report: It's 37 degrees, with a wind chill of 26. The wind is out of the north at 23-31 miles per hour.
11:20 a.m.
The weather should be a factor here today, as it is cold with a strong wind blowing from end zone to end zone.
There's quite a bit of burnt orange in the crowd. This looks to be the largest crowd from an opposing fanbase all year.
9:35 a.m.
Welcome back to The Newell Post Live, coming to you from chilly Lawrence as the Kansas football team gets set to take on No. 4 Texas.
By now, you should know the drill. Let's get to our true/false, fill-in-the-blank questions for this game.
True or false: Jake Sharp will run for 120 yards or more against Texas.
True. Or maybe this should be "Jake Sharp will have to run for 120 yards or more to give KU a chance in this game." It's pretty simple: KU needs to limit possessions against a more talented and athletic Texas team. The best way to do this is to keep the ball on the ground. The Jayhawks' offensive linemen had shown steady progression before a disappointing game last Saturday against Nebraska. They'll have to come up big today to try and shorten this game.
True or false: Texas' Colt McCoy will throw for 400 yards against KU.
False. The numbers going in certainly don't look good. Texas has the 10th-ranked passing offense. KU has the 116th-ranked passing defense (out of 119 schools). Still, KU's pass defense isn't quite as bad as it showed last week. Though we remember most what happened most recently, KU's pass defense actually wasn't too bad in its last home game against K-State. With some adjustments in practice, I'll stay on the optimistic side and say that KU finds a way to get a couple punts out of the Longhorns. Fearless prediction for Colt McCoy's passing yards: 319. This also should help you out when signing up for Kream Keegan.
True or false: Texas will have three or more sacks against KU.
True. This is truly one of the strengths of the UT defense. Brian Orakpo should be back after spraining his knee in his team's last game against Texas Tech, and he's second in the Big 12 in sacks with 8.5 (in only nine games). Sergio Kindle also has emerged this year for Texas, as he's tied for third in the league with seven sacks. Expect Reesing to be pressured quite a bit in obvious passing downs, and with some of the struggles of KU's offensive line, expect the Longhorns to get to Reesing a few times.
If KU wins, it will be because :
it is able to hold on to the ball and sustain long touchdown drives. This is no easy feat against UT, either. In 119 drives this year against the Longhorns defense, only 19 times (15.9 percent) has the opposing team scored on a touchdown drive that has covered more than 30 yards. It's hard to keep long drives going against UT, but that's exactly what KU will need to do to limit possessions and hang in this game.
If Texas wins, it will be because :
the Longhorns win the line-of-scrimmage battles. Let's face it: All of KU's losses this year have come at least partly because of an inability to compete with the opposing team in the trenches. South Florida, Oklahoma, Texas Tech and Nebraska all proved to be much better on the offensive and defensive lines, and the Jayhawks couldn't overcome those mismatches. Texas definitely is one of those teams that has the athleticism to dominate up front, and we'll see if that happens today. One note, though: UT is without starting center Chris Hall, who sprained his knee this week. Buck Burnette, the backup center, was kicked off the team after posting a racist remark about the newly elected Barack Obama on his Facebook page, so that takes Texas down to its third-string center, freshman David Snow. KU will have to try to expose Snow as the weak spot on the line, so expect tons of blitzes right up the middle.
Prediction: Texas 45, Kansas 31
Because it is Senior Day and also Texas week, I expect KU to come out with some emotion and fire early. But talent and athleticism should prevail in this one. The Jayhawks will keep it close for a while before the Longhorns pull away early in the fourth quarter. UT's offensive and defensive lines should prove to be the difference in a two-touchdown victory over the Jayhawks.
Easy money pick of the week: Nebraska (-6) over Kansas State.
I don't understand this line at all. Nebraska is coming off an emotional win against KU and can put up some points. KSU is winding down a miserable season with a lame-duck coach and also a perturbed fan base. This game will be in Manhattan, but will it really be a home game for the Wildcats? I would expect between 15 and 20,000 red-clad Husker fans to make the trip, making Bill Snyder Family Stadium more neutral than pro-KSU. With all that said, NU should win this by a touchdown easily. Seems like easy money to me.
Copyright 2018 The Lawrence Journal-World. All rights reserved. This material may not be published, broadcast, rewritten or redistributed. We strive to uphold our values for every story published.