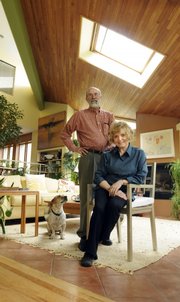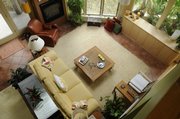 Dede Dresser greets me at the door of her contemporary home.
She begins our meeting by self-deprecatingly saying this of the home she has shared with her husband, Guy, for the past quarter-century: "We are trying to put lipstick on the pig. No, it's not that bad."
I retort with a knowing smile that hopefully expresses how wrong she is - their home is a unique, playful and modest retreat.
A cleaning person and obviously a friend as well has just finished up as Dede hands her some cash.
"You'd think the queen were coming or something," she says, giggling as she refers to my visit.
Dede and Guy Dresser's house has been a safe haven where their family feels at ease. There are photographs peppered throughout the house of the sprawling family. Dede grew up in Lawrence with her seven siblings. She and Guy adopted her sister's three children after her death, and they raised their own two daughters. An army of nieces and nephews have added to the family stew, and I cannot help but get the feeling that each and every one of them takes respite in this friendly atmosphere.
"This is home - it's home for all the kids together," Dede says. "This is where we became a family. We'll go to the rest home from here. This is too good a deal. We really are town people. We would never move to the country. We aren't looking to till the soil. We are looking to do some funky things to the house because we still are not finished."
The home sits in an area just west of the Kansas University campus that was once owned by Raintree Montessori School. The horseshoe-shaped road is quiet, and unless you live here, it is absolutely a road less traveled. Behind the handful of modern homes designed by Gould Evans Architects sits acres of untouched forested land that is owned by the university. Dede explains that apparently a rare black fly which would be considered a pest to anyone who didn't know better lives in the forest and creek area.
The fact that the land isn't likely to be developed is fabulous news for the Dressers and all their similarly aesthetically inclined neighbors. The Gould Evans architecture focuses on windows with variously angled wood-planked ceilings. Decks upon decks all face the vast and densely wooded land. It is truly like living in a tree house.
"I love the woods," Dede says. "I love the happy, relaxing feeling. I adore all the windows. I need a lot of light and light colors. We don't even have blinds or coverings on all these windows, because it really is just like being in a tree house."
Certainly layering on to that "living in the wild feel" is assisted by the enormous ficus tree that is firmly rooted in a giant pot stretching to the ceiling timbers, plus two huge monstera plants and a handful of ferns that are beyond bushy. Outside not only do the black flies dart and zip, but foxes hunt, coyotes howl, deer graze, and even a family of bobcats produced babies on the neighbor's deck.
It is quite a difference from the home the Dressers occupied before moving here. That was an 1860s farm house in the center of town. However, even in the 19th-century home, contemporary styles ruled the roost.
"It was so cutting edge at the time," Dede says. "When we first moved here, the master bath seemed so large it was like a dance studio, but now it seems dinky. The kitchen is the nerve center of the house. But when we were building I said, 'Do we have to have a kitchen?' Apparently we'd never be able to resell the house without one."
Their current home is full of sleek lines and open, airy tiers that move from one level to another. Plentiful skylights allow the sun's rays to pierce completely from rafters to floorboards. With all the natural light, the house lends itself to showcasing artwork.
"Guy thinks we should have all original artwork," Dede says. "I'm not that snobby, but it is great to find things that just speak to you. We have a lot of local art."
A modern design coupled with the traditional goodwill that families should share tangles itself together with this now "professional grandmother." She doesn't cook or clean, but she'll take you in and provide shelter in their warm tree house.
Copyright 2018 The Lawrence Journal-World. All rights reserved. This material may not be published, broadcast, rewritten or redistributed. We strive to uphold our values for every story published.