On the street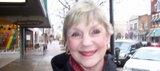 No. I saw one on the street today smoking cigarettes and I thought if she can afford a four- or five- dollar pack of cigarettes she probably doesn't need my money.
There soon may be a simple new rule for panhandlers in downtown Lawrence: Mum is the word.
Lawrence city commissioners on Tuesday agreed to consider new regulations that would prohibit any panhandler, individual or charitable organization from verbally asking for money while on the public sidewalks of downtown.
A majority of commissioners said they were willing to consider such an action because they have heard or seen panhandlers become a bigger problem downtown.
"I think it has escalated," Commissioner Sue Hack said. "I think it is becoming scary to people rather than just uncomfortable."
Commissioners asked staff to work on an ordinance that would make it illegal to verbally solicit for money on the public right of ways downtown. Commissioners said they wanted to find ways to make it legal for groups and charitable organizations - everybody from church groups to Girl Scouts - to continue to be allowed to use the sidewalks for fundraising.
But a staff attorney for the city said for the regulations to pass constitutional muster it would be necessary to treat panhandlers and other groups equally.
"The ordinance has to be content- and viewpoint-neutral," said staff attorney Scott Miller. "You can't allow one group to solicit contributions because you like its message, but not allow another group or individual to solicit contributions because you don't like their message."
Any new regulations, however, would not limit the ability of individuals or groups to "passively" solicit contributions. That means musicians and street performers could continue to perform on the sidewalk and accept tips in jars or open music cases as long as they don't verbally ask for tips.
Downtown merchants had asked for tougher regulations, but a representative with the Douglas County Chapter of the ACLU said he was concerned it would be an unreasonable restriction on people's First Amendment rights.
"As deeply as I care about downtown, I care about our country's Bill of Rights even more," said Phil Minkin, president of the Douglas County chapter of the ACLU. "I hope you don't feel compelled to sacrifice the latter to help the former."
Commissioner Boog Highberger was the lone commissioner to voice opposition to moving forward on the new regulations. Highberger said he thought more enforcement of the city's current aggressive panhandling ordinance was needed. That ordinance prohibits people from asking repeatedly for a donation, from touching a person while asking for a donation, or asking for donations near ATM machines.
In other business, commissioners:
l referred to the Community Commission on Homelessness the issue of whether a designated camping area for the homeless should be created in the city limits.
l were lukewarm to an idea to start a "good neighbor" program to remind people to shovel snow from their sidewalks. Instead, commissioners asked staff members to bring back options that would put more teeth into the city's current snow shoveling ordinance.
l unanimously approved a request to allow a developer to temporarily use eight parking spaces in the public lot in the 800 block of Vermont. The spaces will be used to store construction equipment for about nine months.
Copyright 2018 The Lawrence Journal-World. All rights reserved. This material may not be published, broadcast, rewritten or redistributed. We strive to uphold our values for every story published.