Photo Gallery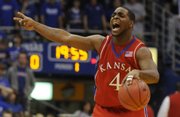 KU vs. Emporia State
Audio Clips
2008-09 KU-Emporia State basketball
Kansas vs. Emporia State: Postgame
The smile was still on Jordan Juenemann's face as he stood outside the locker room after Tuesday's exhibition game against Emporia State.
"This is definitely the No. 1 moment in my life," Juenemann said after scoring his first points as a Jayhawk in the final minute of Kansas University's 103-58 victory at Allen Fieldhouse. "It's just awesome. I'm just so thankful."
Just 16 days ago, Juenemann received a call from Kansas coach Bill Self telling him he'd made the team after impressing coaches in the walk-on tryouts.
It didn't take the 6-foot-4 guard long to get his first points out of the way.
After missing a couple of shots Tuesday, Juenemann received a good pass inside from teammate Brennan Bechard.
Juenemann quickly put it in off the glass with 28 seconds remaining, bringing out a wide grin that didn't go away quickly.
"There was a feeling in my body I just can't explain," Juenemann said. "I pumped my fist after that, and that smile was huge. The crowd went crazy. I just can't describe the feeling. It was so awesome."
Juenemann still got some ribbing from the team afterward.
KU assistant coach Danny Manning gave him a hard time about his Tiger Woods fist pump. Other teammates told him that he'd probably improved his status with the ladies.
"Everybody was saying he's going to be looking a lot better after this game. They were saying he might be a little cuter next time on campus," KU center Matt Kleinmann said with a laugh.
Juenemann, whose nickname on the team is "JoJu," averaged 17 points and six rebounds last year as a senior at Hays High.
He grew up as a big fan of the Jayhawks, idolizing Paul Pierce, Kirk Hinrich and Wayne Simien.
"I grew up watching those guys and KU basketball religiously," Juenemann said. "To be out on the court - it just felt good, and I just felt like I was at home. I just can't believe that I scored and got in."
Juenemann finished 1-for-3 with two points and no turnovers in four minutes. He was able to contribute despite getting a late start in practice and with the playbook.
"He doesn't always know what he's doing, but he tries hard every time," Kleinmann said. "That's something that speaks volumes about his desire to be a Jayhawk."
Juenemann, who worked out with former Jayhawk Jeff Hawkins in the summer to prepare for his walk-on tryout, said he still couldn't quite believe where life had taken him.
"I've had quite the journey," Juenemann said. "I've just been trusting in God and the things that he's done. Where I'm at now, it's just amazing. I'm just so blessed to be on this team."
Copyright 2018 The Lawrence Journal-World. All rights reserved. This material may not be published, broadcast, rewritten or redistributed. We strive to uphold our values for every story published.