Photo Gallery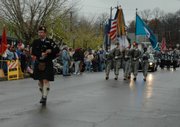 Leavenworth Veterans Day parade
A cold, rainy Tuesday morning set the mood for veterans as they remembered their service to their country.
"I feel very grateful for the men that have passed away and are fighting now for the privilege to protect my country for me," said Lenora Crumet, a member of the American Legion who attends the ceremony every Veterans Day. Her late husband, Donald Crumet, served in the U.S. Army during World War II in Europe.
Members of local chapters of the American Legion, Disabled American Veterans and Veterans of Foreign Wars attended a ceremony at the American Legion in northwest Lawrence that began at 11:11 a.m., which is symbolic of the end of World War I on the 11th day of the 11th month at 11:11 a.m. Veterans and their families said the Pledge of Allegiance, sang "God Bless America" and remembered those who lost their lives while serving in the armed forces.
They then went outside for a rifle salute to deceased veterans and the playing of taps.
Veterans said the day is about military personnel, but also about their supporters.
"It's also a chance to recognize the families and let them know, because the soldiers couldn't do their jobs if their families weren't supporting them," said Jerry Hanson, the commander of American Legion Dorsey-Liberty Post No. 14.
Hanson said it is also a time to remind the government about keeping promises to retired veterans.
Some veterans and their supporters urged younger generations to learn what members of the military have sacrificed for the United States.
"I think younger people don't appreciate how much the active-duty military is doing now to protect their lifestyle that they enjoy here," said Daniel Fisher, the commander of Disabled American Veterans Jayhawk Chapter No. 22.
Copyright 2018 The Lawrence Journal-World. All rights reserved. This material may not be published, broadcast, rewritten or redistributed. We strive to uphold our values for every story published.