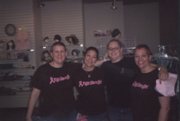 Amy's journey
To learn more about Amy Laughlin's journey, log on to her CaringBridge Web site at caringbridge.org and type in amylaughlin.
Giving.
Hopeful.
That's how Amy Laughlin will be remembered by the Lawrence community.
Laughlin, owner of Second Chance Children's & Maternity Store in downtown Lawrence, died Monday at the age of 40 after a 12-year battle with breast cancer.
"She was concerned about everybody else. She wanted to make sure everybody else was happy," said Diana Buchanan, store manager.
Buchanan said Laughlin felt strongly about providing affordable clothing for children and expectant mothers. If customers couldn't pay the bill, she was known for letting them have store credit or sometimes simply giving the clothes away.
Laughlin also bonded with many of her customers during her nine years of ownership.
"She really grew a business, and she really grew what I call her entourage. People loved to come in and talk to her," Buchanan said.
Susan Cary, Lawrence, was a frequent shopper seven years ago when she was pregnant. She and Laughlin learned that they had a common passion for scrapbooking. Then, they realized their husbands shared common interests, too. They became a second family and often took trips together.
Every year, the two women spent Dec. 26 together.
"It was a standing date. We met at 7 o'clock at Milton's and then went shopping," Cary said with sadness in her voice.
She said Laughlin "just gave all the time." She often volunteered to watch children for parents who needed to run errands, played the viola during church services, and attended her three children's school activities. Last summer, she wanted to help run Bible School although she was sick.
Her friends said she was open about her illness and often provided encouragement for others battling cancer. She participated in events such as Relay of Life, which raises funds for cancer research.
"She embraced her life and she embraced her cancer and she brought dignity to a very cruel and heartless disease. She showed that when there is hope, there is life," Cary said.
Memorial services will be at 2 p.m. Friday at First Presbyterian Church in Lawrence. Friends and family are encouraged to wear pink - her favorite color.
"I don't want some gloomy, mopey black funeral," Laughlin had said to Cary. "Let's have a big party thing and celebrate life."
Copyright 2018 The Lawrence Journal-World. All rights reserved. This material may not be published, broadcast, rewritten or redistributed. We strive to uphold our values for every story published.