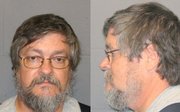 A longtime Kansas University employee suspected of stealing more than $31,000 of equipment from various campus buildings faces multiple felony theft charges.
Robert Lee Sample, who worked at the university for nearly 18 years, is suspected in several criminal cases, a spokeswoman for Douglas County District Attorney Charles Branson said. The cases include the theft of expensive cameras, computers, cleaning items and musical instruments reported between June 22, 2004, and Aug. 15, 2008.
Sample's employment ended Sept. 5, 2008, said Jill Jess, a KU spokeswoman. The building systems technician senior began work at the university on Sept. 18, 1990.
According to prosecutors, Sample, who turned 56 Tuesday, is suspect in the following criminal cases:
¢ Several cleaning items, valued at $6,059, were taken from the Structural Biology Center. The theft occurred between March 20, 2008, and Aug. 13, 2008. The suspect returned these items to the KU Public Safety Office.
¢ Two Canon XT digital cameras, valued at $1,248, were stolen from an area in Stauffer-Flint Hall that had several other cameras in it that weren't taken. The theft occurred between Aug. 8, 2008, and Aug. 12, 2008.
¢ A $1,427.89 laptop computer was removed from a storage room from Dole Human Development Center between June 24, 2008, and Aug. 6, 2008.
¢ A new $1,399 iMac computer was removed from an office at the Art & Design Building between July 3, 2008 and July 31, 2008.
¢ A $2,000 15-inch Apple MacBook Pro laptop computer was removed from Stauffer-Flint Hall between July 1, 2008, and July 24, 2008.
¢ Camera equipment, valued at $4,895, was removed out of a storage room from the Art & Design Building between May 20, 2008, and June 12, 2008.
¢ Four laptop computers, valued at $5,000, were removed from a Strong Hall computer storage room between April 25, 2008, and April 29, 2008.
¢ A $1,299 Nikon D80 digital camera was removed from a metal cabinet at Moore Hall between July 20, 2007, and July 26, 2007.
¢ Musical instruments, valued at $3,050, were taken from a locked room in Nichols Hall between Sept. 23, 2004, and Nov. 19, 2004.
¢ A camera and camera lens, valued at $5,094, were removed from room 353 of Snow Hall between June 13, 2004, and June 22, 2004.
Police officers from the KU Public Safety Office arrested Sample Aug. 11 at his Lawrence home. He pleaded not guilty to three charges of felony theft on Oct. 23 in Douglas County District Court, court records said.
"Additional charges may be filed," said Cheryl Wright, Branson's spokeswoman.
The university didn't provide specifics about the circumstances of his arrest or employment termination.
Sample's next court date has been scheduled for Nov. 18 in front of District Court Judge Robert Fairchild.
Copyright 2018 The Lawrence Journal-World. All rights reserved. This material may not be published, broadcast, rewritten or redistributed. We strive to uphold our values for every story published.