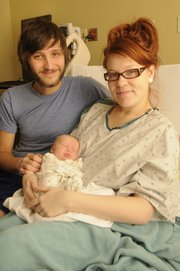 On the street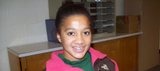 I've gone to school with a boy named Legend and another named Diamond.
When choosing what to name their children, Maggie Beedles and husband Chris Feaster went by the books.
They drew from family tradition, Greek mythology, classical music and Midwestern geography.
"We both believe that naming is so important," says Beedles, a Lawrence resident. "You can really come up with a verbal manifestation of the person that's about to unfold when you name your kids. It's an exciting process."
Beedles' first-born is Amadeus Marcus III Kaos. Her second child is Gaea Althea Emma Ana Margherita VII Kaos.
No shock
Lawrence Memorial Hospital staff say they've seen their share of unique names of late - from words spelled backward to never-before-seen spellings.
"It gets to the point that it doesn't shock you anymore," says Denise Martinek, director of maternal child services at LMH. "You just don't bat your eyes as much because everyone is trying to spell their child's name different or come up with a name no one has seen before."
Aiden and Addison were among the top names for newborn boys and girls in Kansas in 2007.
But LMH birth clerk Debbie Ridgway, often the first person to hear the new names, says she's seeing more unique picks. Ridgway says she's witnessed the trend of using last names as first names or taking a name and altering its spelling.
Riley, for example, can also be Rylie, Rilee or Ryleigh.
"My job is very interesting when I meet some of these moms," Ridgway says. "I think people like names like Riley but want to make it their own."
One of those more unique names came last month, when Saylor Joel Leon Simpson was born to parents Lindsay White and Cody Simpson.
White says her baby was born near the birthday of Simpson's grandfather, who had been in the Navy. The only other connection they know of was to Sailor Ripley, the fictional character of the novel and movie "Wild at Heart."
"We loved that movie," White says. "Maybe it was in the back of our heads already when we thought about the name. It just fit."
Kaos theory
As for Beedles and Feaster, they say they've selected the name of Kaos as a family name and theme of sorts.
As for Amadeus, Beedles explains: "His papa is a pianist, and Mozart is our mutual favorite composer. We love the name Amadeus. It means 'love of God,' and we just thought it was beautiful."
Meanwhile, with Gaea, her first and middle names also spell out Gaea.
"In the Greek myth, Gaea and Eros are born of the Kaos," Beedles says. "It means 'goddess of the earth,' so that is where that came from."
(Althea, by the way, comes from Althea Spring in Missouri, a site where the couple honeymooned and the family frequently vacations.)
Beedles says the children embrace their names, just as she and her husband did when they chose them.
"In all aspects of our lives, we chose not to be fearful about deviating from the norm," she says. "Just starting with naming that way is a good way to encourage my kids to be individuals and to recognize their own unique potential and to boldly go where no one has gone before."
It's all in the name
Top 10 boy names in Kansas for 2007:1. Ethan2. Jacob3. Alexander4. Jackson5. Noah6. Logan7. William8. Samuel9. Andrew10. Christopher
Top 10 girl names in Kansas for 2007:1. Addison2. Emma3. Ava4. Madison5. Emily6. Abigail7. Elizabeth8. Olivia9. Isabella10. Sophia- Lists from the Social Security Administration
Ten unusual baby boy names:1. Derex (famous ruler)2. Bryson (grandson of a nobleman)3. Bonner (good citizen)4. Zody (cushion of life)5. Tayten (beautiful happiness)6. Eiden (protector)7. Osgood (goth of the heavens)8. Tilden (fertile valley)9. Hamlin (lover of home)10. Cosmo (harmonious)
Ten unusual baby girl names:1. Kendis (pure)2. Deon (divine queen)3. Caden (fighter)4. Tyronica (goddess of battle)5. Tangia (the angel)6. Vartouhi (beautiful as a rose)7. Aizza (life)8. Amaris (promised by God)9. Nizana (flower bud)10. Totie (gift of God)- Names from www.babynamestop10.com
Copyright 2018 The Lawrence Journal-World. All rights reserved. This material may not be published, broadcast, rewritten or redistributed. We strive to uphold our values for every story published.