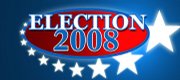 In-depth coverage of the candidates and the issues, all leading up to the Aug. 5 primary and the Nov. 4 general election.
Write-in candidates
Douglas County election workers spent the last few days sorting through thousands of general election write-in votes.
None swung the election, but some interesting people received votes in Douglas County for national or local office, including Kansas University basketball coach Bill Self and Nebraska football coach Bo Pelini for U.S. senator, KU basketball hero Mario Chalmers and former Sen. Bob Dole for U.S. representative; and President-elect Barack Obama, GOP vice presidential candidate Sarah Palin and actor Chuck Norris for a Kansas House seat.
Douglas County commissioners on Monday morning agreed to count 1,665 provisional ballots that were cast in last week's general election.
Based on legal recommendations from the county clerk's office, commissioners decided not to count 756 of the ballots, mostly because voters were not registered in Douglas County or they voted for the first time here and did not produce identification before Monday's canvassing.
Douglas County Clerk Jamie Shew's office was still counting the approved provisional ballots at 12:45 p.m., but he said he didn't expect the approved ballots to change results of any races.
Of the approved provisional ballots, 686 were cast by voters who changed their address since the last election, but they still lived in the same precinct. And 379 of the approved provisional ballots were cast by voters who had requested an advance ballot but didn't mail it in. They went to the polls instead on Election Day, and the clerk's office had to verify they didn't vote twice.
Things didn't go flawlessly in the election when the most people ever voted in Douglas County.
But county commissioners commended poll workers and election officials for having only a handful of discrepancies out of more than 51,000 ballots cast.
Across the county, election officials had six more ballots than signatures on the books. Shew said it occurred at three polling sites, and election workers likely missed the signatures during the morning rush at the polling sites.
"There's no reason to suspect it's anything more than an honest mistake," Commissioner Bob Johnson said.
At one Baldwin City polling site, a voter accidentally placed her provisional ballot into the scanner. There's no way to tie the ballot with the voter once it has been scanned, so it will count. Shew said if the ballot would not have been scanned, the vote would not have counted because the voter was registered in another county.
Commissioners did agree to count all or part of 116 provisional ballots where voters had registered at the Division of Motor Vehicles office.
In several counties across the state, election officials discovered a glitch where people who registered at a DMV office did not get their voter information transferred onto books, so those voters cast provisional ballots.
Copyright 2017 The Lawrence Journal-World. All rights reserved. This material may not be published, broadcast, rewritten or redistributed. We strive to uphold our values for every story published.