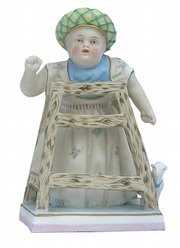 current prices
Current prices are recorded from antiques shows, flea markets, sales and auctions throughout the United States.
¢ Patriotic flag radiator cap hood ornament, embossed shield and bracket, 5 flags, 1930s, 10 inches, $115.
¢ "Send John Wayne to Vietnam" protest button, photo on John in cowboy hat, red background, 1968, 1 1/4 inches, $120.
¢ Star Wars Luke Skywalker teapot, glazed ceramic, shows Skywalker on Tauntaun, 1980, by Sigma, 10x10 inches, $175.
¢ The Monkees game, features musical notes path, image of bank, Monkeemobile, instruments, Transogram, 1967, 9x17 inches, $220.
¢ G. I. Joe doll, Scarface, Marine manual, shoes, belt, blond hair, Pat. Pending, $275.
Mothers in the past, like those today, were eager to see their children walk, and many different toys were created to help.
Most would not be considered safe today because both the baby and the walker could fall. Standing stools, also called baby walkers or baby minders, were shown in pictures as early as the 15th century.
By the 18th century the favored design was a wooden frame with four slanting posts and some cross pieces. The baby stood inside the frame and could hold the cross pieces to stand. Some other stools were made with a square base on wheels. The child could push the frame easily because of the wheels.
By the 19th century, there were improvements. A small shelf on the front held toys. Springs were added to allow the child to jump up and down. In the 20th century, walkers were made of colorful plastic with all sorts of added shelves and toys. Although the early walkers are rarely seen today, there are some collectible figurines that show children using walkers.
Q: We bought a Romweber Viking Oak round table at an estate sale about 25 years ago. It's 66 inches in diameter and has a beveled glass insert that fits in the tabletop. If you look down through the small center hole, you can see a carved horse's head in the center of the eight-leg base. We were told the table was originally a wedding gift from Mr. Romweber for a friend. It was supposedly made to fit at the bottom of a circular stairway.
A: Romweber Co. has been in business in Batesville, Ind., since 1930. It was formed when the Romweber family took over the American Furniture Co. it had helped found in 1879. Romweber's "Viking Oak Collection" was introduced in 1935 and remained popular into the late 1980s. Your table may have been a special order, but its value is affected more by its style and condition. In good shape, it could sell for more than $1,000. Collectors like Viking Oak pieces.
Q: I have an amber bead necklace that belonged to my great-grandmother. It's more than 100 years old. The string is broken, and I wonder if restringing it will lower the value. I have never worn it for fear of losing it, but I enjoy the memento of my namesake.
A: Having your beads professionally restrung will help keep them safely together and raise the value. The string jewelers use today is strong and durable. Once the beads are safely strung together again, enjoy wearing them.
Q: I inherited a pair of pictures in shadowbox frames from my great aunt, who lived to be 103. I remember seeing them in her apartment 50 years ago. The rectangular frames have a thin gold border surrounding a wider wooden filler tinted pale blue to match part of the picture inside. Both pictures are prints showing Victorian ladies. Each lady is dressed in folded and pleated fabric, so the picture has a three-dimensional look. They look like very elaborate paper dolls. Can you tell me about them?
A: Your prints are sometimes called "Victorian Fashion" lithographs. Pictures of fashionably dressed women were printed and sold in magazines and pattern books in the late 1800s. Then later some were framed and "dressed" to hang as decorations. Most of the old ones had walnut frames or oval frames with raised glass.
In the 1940s this type of picture came back in favor, and new ones were made. These were like yours, with rectangular painted or tinted pastel-colored frames. Value of the 20th-century versions: about $200 each if in great condition.
Q: A few years ago I received a set of dishes. It includes eight place settings, but is missing one cup. The dishes are white with a gray and aqua floral pattern. The green stamped mark on the bottom of each piece is a crown surrounded by the words, "Royal Heiden, Fine China, Bavaria, Germany." Is it worth my time and money to search for another cup to complete the set?
A: It wouldn't be hard to find a cup for your set. Replacement services list your pattern as Royal Heiden's "RHE3" pattern. A cup and saucer would run about $16. The Royal Heiden Society was in business making dinnerware at least during in the 1950s and '60s. Your dishes were obviously made in Germany, but some Royal Heiden dinnerware was made in the former Czechoslovakia.
Copyright 2018 The Lawrence Journal-World. All rights reserved. This material may not be published, broadcast, rewritten or redistributed. We strive to uphold our values for every story published.