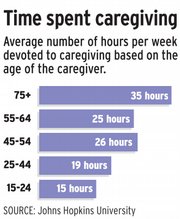 Editor's Note: This is the first story in a two-part series that examines caregiving as part of National Family Caregivers Month.
Four years ago, Sally Burger would spend a few hours after a full day's work visiting her mother, Eleanor Burden, in a nursing home. Then, she would go home, eat, say a few words to her husband, Doug, and go to bed. The next day, she would do it all over again.
On weekends and holidays, she brought Mom home.
Sally said it was heartbreaking to watch her mom's health deteriorate while in the nursing home. The family opted to move Eleanor there after a debilitating fall that hospitalized her for three weeks.
"In that year, we felt her going away," Sally said.
Doug said Eleanor's decline led to a frank talk with doctors who didn't think she would live to see another year.
"Mom was sad. Sally was sad, and I was sad," Doug said. "I turned to Sally and said, 'Why are we sad every Sunday night? Let's bring her home.'"
And so a new journey began.
"It was basically learning a new lifestyle," Sally said.
A different life
At age 49, Sally decided to leave her full-time job as a paraprofessional at Lawrence High School to provide 24-hour care for her mother.
Her decision initially raised eyebrows in the family because they thought, Why mess with something if it isn't broken? They questioned whether she could do it, and if she couldn't, how devastating it would be for Eleanor to return to the nursing home.
"You have family looking over your shoulder a lot and questioning everything you do. That one can be tough," she said.
Eleanor, 85, is unable to walk because of a nickel-size brain tumor called meningioma. It's not cancerous, but it does grow, and it puts enough pressure on her brain that it affects signals to her arms and legs. Eleanor can feed herself but depends on Sally to help with daily tasks such as bathing, toileting and dressing.
"Because Mom isn't ambulatory, she really is supposed to have what we call wiggle butt every couple of hours to keep the circulation going," she said.
Sally said she is lucky because Doug is a telecommuter and works from home. He cooks most of the meals and runs errands.
"It's a team effort," Sally said.
They also made a few adjustments to their tri-level home. They added security bars, widened the bathroom door and added two stair lifts.
They also installed an alarm system, Sally joked. Its name is Mr. Quackers. Whenever Eleanor needs something, she squeezes the stuffed duck. They use Mr. Quackers because they can't hear Eleanor's quiet voice through a baby monitor. She recently was given a couple of stuffed loons as a gift because she grew up in Minnesota.
"We've woke up to the duck every day for the past four years. So, when she used the loon, it freaked Doug out," Sally said, laughing.
Eleanor has her own bedroom that is decorated with family pictures. Her grandmother's and mother's doilies are framed and hanging in the room. She sleeps in a hospital bed, but you wouldn't know it because it is covered with a queen-size, yellow-and-green quilt. She also enjoys sitting in a bright, yellow room upstairs, where she watches her neighbors from a window and reads.
"The one thing I wanted to do was make sure I had all of my bases covered as far as safety," Sally said.
Accepting help crucial
The Burgers were introduced to a Douglas County agency called Project Lively, which provides free assistance to help seniors maintain their independence.
Sally said the agency was key to their successful transition.
Sandra Kelly-Allen, coordinator of Project Lively, became their case manager. She assessed the home and Eleanor's needs. She also hooked them up with physical therapists, dentists and agencies that could provide equipment.
Kelly-Allen also convinced Sally to accept help from others. At first, she wanted to do everything.
"That's the real challenge we run into with caregivers. It is convincing them that it's OK to have help. In fact, not only is it OK, it is good for you and it's good for the person receiving the care," Kelly-Allen said. "It's a sad, sad thing when you see someone who has been caregiving to give up on their own health and well-being."
The Burgers take one or two four-hour breaks a week.
"We do our date nights," Doug said.
They also go on a two- to three-week vacation every year. That's thanks to close friends Tammy Wendler and Rita Beyer, who live in the same west Lawrence neighborhood.
"Talk about having good girlfriends who will clean up your mother's bottom. It doesn't get much better than that," Sally said. "They are able to do everything that I do."
Quality of life
Wendler, a real estate agent who previously operated a retirement village, said she had a deep respect for the elderly.
"Older people are a lot smarter than we are because they have been there," she said. "A lot of younger people who do substitute caregiving don't realize that. I hate it when they treat older people like they are little kids or something. They are way smarter than we are."
Wendler enjoys Eleanor's stories. She helped repair planes during World War II and raised five children.
"Eleanor is a sweetie to take care of," Wendler said. "She's just a doll."
The two have a nighttime ritual where Wendler says: Good night. Sleep tight. Don't let the bedbugs bite.
And Eleanor replies: If they do, I will get a shoe and beat them black and blue.
Wendler said the Burgers treat her like a family member, so it's only natural to help.
"You always hope that your children don't have to take care of you, but if they ever did, I would want it to be just like that," she said. "Sally gives her mom a quality of life that she wouldn't have in a nursing home or anywhere else."
Finances tough
Not only did Sally learn to accept help, but she also learned that it's OK to pay herself.
"Honestly, she didn't want to spend one penny of her mom's money for her care, and as a daughter, she just thought it would be wrong if she did. It took her awhile to understand that Eleanor saved it for a rainy day and it was pouring," Kelly-Allen said.
Sally said she couldn't afford to quit her job, so her mom supplements the income that she lost working as a paraeducator. Eleanor also covers her share of the household expenses.
"She can afford to do that. If she couldn't, then we probably would still figure out a way," Sally said. "But this way, she feels that she is a contributing member of the household, and there's a lot of dignity there."
The Burgers said they keep their funds separate and keep track of every dime. Eleanor's monthly expenses are about half as much as they were at the nursing home.
Kelly-Allen said one of the biggest mistakes caregivers make is co-mingling funds - "it could affect Medicaid and Medicare."
Kelly-Allen also is impressed with how Sally regards her mother.
"When I first met Sally, she told me that she doesn't help her mom walk across the room, they dance," she said.
"The amount of knowledge that it takes to understand all of a person's needs - their medical needs, their emotional needs, their physical needs - that's pretty extensive. So, it's a big job."
And that's how Sally views it - as a job.
She was offended when someone asked her: "What's it like to now be the parent?"
"I looked at her and I said, 'I wouldn't know, I am my mother's administrative assistant,'" she said. "I still get loves and cuddles and hugs and she will still scratch my head if I put it in the right position. My mother is still my mother. She is still teaching all of us every day. She teaches us the meaning of grace every day. It's not easy being dependent on someone."
Eleanor nodded in agreement.
"Especially because I was such a goer and doer," she said quietly.
Range of emotions
Sometimes, Sally said she is overwhelmed with guilt. She worries about not getting her mom's teeth clean enough. If raking leaves in the backyard, she worries about being away from her mom a few minutes too long.
"It's wack-o, but I've had other people tell me the same thing," she said. "It's just that feeling of guilt you get sometimes. Over the years, I have learned that I have to keep myself sane and I am not going to do my mom any good if I am not happy."
And these days, she is content. She has discovered new talents such as painting with watercolors and drawing. She still travels, shops and attends local events and often takes mom with her. She also enjoys her two grown children.
Sally cringes when she hears that she has given up her life for her mom.
"I have a different kind of life, but I have a life - a comfortable, nice life. One that makes me happy."
Copyright 2018 The Lawrence Journal-World. All rights reserved. This material may not be published, broadcast, rewritten or redistributed. We strive to uphold our values for every story published.