Photo Gallery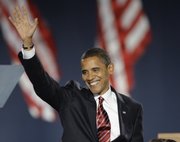 President-elect Barack Obama addresses crowd in Chicago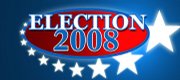 In-depth coverage of the candidates and the issues, all leading up to the Aug. 5 primary and the Nov. 4 general election.
When President-elect Barack Obama delivered his acceptance speech Tuesday night, northwest Lawrence resident J.R. Demby tapped his chest and said "in my lifetime" while attending a watch party at Abe & Jake's Landing.
As a 51-year-old black man, he always hoped he would see a black person elected president of the United States but was not sure it would happen.
Election night changed that and will change history books forever.
Many people around the country and the world are excited about Obama's win. For some leaders of Lawrence's black community, witnessing the election results was an emotional and affirming moment.
The Rev. Leo Barbee Jr. of Victory Bible Church lived through the civil rights movement. He had been doubtful he would ever see a black person win the presidency, but Obama changed that for him.
"I'm 70 years young," he said. "I've been through a lot of the inequities as an African-American, so I think as an African-American it meant a lot to me to see a (black) man of this caliber become the president of the United States, which probably some thought we would never see."
Barbee believes Obama is a leader the country needs in harsh times.
"With the economic conditions and with the war, I think he's going to be an asset to our country. I really do," he said.
Barbee said from what he has seen, Obama surrounds himself with people who can help him, and he is not afraid to ask for help. He said Obama is concerned about the group rather than himself, which Barbee calls the "spirit of humility."
Progress and perseverance
Kansas State Rep. Barbara Ballard, D-Lawrence, always knew she would see a black or female president in her lifetime. While watching results come in Tuesday night, she knew Obama would get enough electoral votes to become president.
"Once Pennsylvania went, and Ohio, at that point you just knew," she said. "You just knew that he was going to get (the electoral votes) he needed. We were just waiting for the magic number."
Ballard believes Obama's win sends a message about progress and perseverance to Americans of all backgrounds. For those who thought the country would never elect a president who happened to be black, she wants to let them know that times have changed.
"For people who said, 'We're not ready for it,' I'd say 'wrong,'" Ballard said. "He was elected. So if you made the call that the country is not ready, the country was ready or they wouldn't have elected him."
Ballard made a point that Obama was not elected by black voters but the entire nation.
"It was all races, all classes," she said. "It was young people that did this. I think when you all come together and you have a common mission, then you can get your person elected, and if you don't spend time worrying about what color the person is and all of that, you're able to maybe accomplish what you want as a group of people and everyone has ownership for it."
Trip to inauguration
Back at Abe & Jake's Landing on Tuesday night, J.R. Demby was text-messaging his daughter throughout the evening about the results.
Demby and his 12-year-old daughter, Rianon Wallace-Demby, plan to make a trip to Washington, D.C., to see Obama sworn in as president. This is a trip he has looked forward to for more than 30 years.
He wants to be a part of the history-making moment and hopes that this election could pave the way for more people of color who aspire to be commander in chief.
"What we witnessed, the nation (and) the world is looked upon as being something unique," he said. "I think of my child's generation, and they will grow up looking at this as being the norm."
Copyright 2018 The Lawrence Journal-World. All rights reserved. This material may not be published, broadcast, rewritten or redistributed. We strive to uphold our values for every story published.