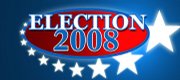 In-depth coverage of the candidates and the issues, all leading up to the Aug. 5 primary and the Nov. 4 general election.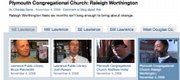 Voters throughout Douglas County share their Election Day thoughts.
The two newly elected members of the Douglas County Commission are downplaying the first Democratic majority of the three-member commission in 18 years.
"I really don't think that the county commission work is partisan work," said Democrat Nancy Thellman, who will replace Republican Bob Johnson in the 2nd District seat in January.
Both Thellman and Republican Jim Flory, who won the 3rd District seat on Tuesday, said commissioners will have their hands full with economic development, land-use issues and the county's grim budget picture.
"I've said many times that it's a political contest to get in. Once you're in, it's a nonpartisan, bipartisan effort to do the best job for the people," said Flory, a former Douglas County district attorney and retired federal prosecutor.
But come January, the makeup of the commission will not include two Republicans, ending a streak that started in January 1991 when Republican Mark Buhler joined Louis McElhaney, of the GOP, on the commission with Mike Amyx, a Democrat. Buhler replaced Democrat Nancy Hiebert, who chose not to seek a third term in the 1990 election.
Flory and Thellman will join Democrat Charles Jones on the new commission in January. Jones said the commission's decisions are local and less defined by partisanship.
One major economic development issue could be trying to accommodate Deciphera Pharmaceuticals once it grows out of its space leased from Kansas University or companies that use the bioscience incubator.
"(The former) Farmland (Industries site) continues to rise in terms of being the best-case scenario there," Jones said of the industrial site north of Kansas Highway 10.
One issue the new commission could influence is the county commission's past support for the 32nd Street route to complete the South Lawrence Trafficway. Jones and Thellman in the past have not been supportive of that route that the Federal Highway Administration has approved. The matter is complicated because opponents also recently filed a lawsuit claiming alternatives to the 32nd Street route were not adequately considered.
Flory said in the campaign his main goal would be to have the county commission and local legislative delegation unified in support of finishing the SLT to help advocate for state funding. He supports the 32nd Street route.
Jones said he could see the SLT conversation coming up again as part of a larger discussion on transportation infrastructure in the county.
Copyright 2018 The Lawrence Journal-World. All rights reserved. This material may not be published, broadcast, rewritten or redistributed. We strive to uphold our values for every story published.