Photo Gallery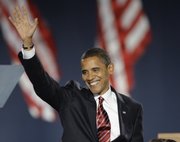 President-elect Barack Obama addresses crowd in Chicago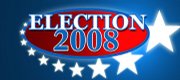 In-depth coverage of the candidates and the issues, all leading up to the Aug. 5 primary and the Nov. 4 general election.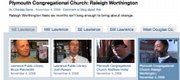 Voters throughout Douglas County share their Election Day thoughts.
On the street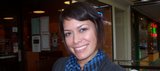 I feel like it's the most amazing thing that has happened in my lifetime. When I was listening to his acceptance speech, I was crying like a baby. Being raised on a reservation, this is honestly the first time in my life that I feel proud to be an American.
Washington — A day after winning a historic victory that will make him the first black president in the nation's history, Barack Obama remained largely out of public view Wednesday while his aides announced the first details of an ambitious plan for the transfer of power when he assumes office in January.
After emerging from his home in Chicago for an early workout, Obama spent most of the day ensconced in a downtown office building where he held discussions with aides and potential members of his administration. At his campaign headquarters nearby, aides began stripping posters from the walls and disbanding the sprawling organization that helped propel the senator from Illinois to a decisive victory over Republican John McCain on Tuesday.
Amid new indications of a weakening economy, the president-elect must now decide how to insert himself into the most pressing issues facing the nation over the next 75 days, particularly the global economic summit that President Bush will convene in Washington on Nov. 15 and a new economic stimulus package being pushed by Democrats when a lame-duck session of Congress begins days later.
Leading the Obama-Biden Transition Project are John Podesta, who was President Bill Clinton's chief of staff; Valerie Jarrett, a close friend of Obama; and Pete Rouse, Obama's former Senate chief of staff. Its work can be monitored online on change.gov. Obama hopes to quickly name a treasury secretary, a decision that will set the tone for his relationship with the battered financial world, and is expected to name his chief of staff, most likely Rep. Rahm Emanuel of Illinois, this week.
In remarks delivered from the Rose Garden, the current occupant of the White House called Obama's election "uplifting."
"It will be a stirring sight to watch President Obama, his wife, Michelle, and their beautiful girls step through the doors of the White House," President Bush said. "I know millions of Americans will be overcome with pride at this inspiring moment that so many have awaited so long. I know Senator Obama's beloved mother and grandparents would have been thrilled to watch the child they raised ascend the steps of the Capitol - and take his oath to uphold the Constitution of the greatest nation on the face of the earth." First Lady Laura Bush also called Michelle Obama to offer her congratulations.
Bush and Obama showed early signs of cooperation, with the current president inviting his successor to visit the White House "as soon as possible" and promising to help make the changeover a smooth one.
With the economic summit on the horizon, a Bush administration official said the current White House is "consulting closely with the president-elect's team" but could not say whether Obama or one of his representatives would be included in the meeting with 20 foreign leaders next week. "This effort will obviously straddle the two administrations and it will be up to the president-elect as to how he would like to have input," the official said.
But in bureaucracies across the government, federal agency heads ordered their staff to welcome the next president's aides and to begin preparing for an influx of new appointees, a process that will place special emphasis on the departments of Treasury and Defense at a time when the nation is waging two wars and attempting to stave off further economic decline.
After weeks of speculation about who might fill the treasury secretary post, financial industry and Obama sources said the list includes Federal Reserve Bank of New York president Timothy Geithner and Lawrence Summers, who was treasury secretary at the end of the Clinton administration and has been a close adviser to Obama on the economy.
Geithner has been deeply involved in the government's response to the crisis since it began in September. While he has extensive knowledge of the financial system, he is not as well known to Obama as Summers.
Obama could also draw from his core economic team, which include former Treasury Secretary Robert Rubin, former Federal Reserve Chairman Paul Volker, and Laura D'Andrea Tyson, who chaired Clinton's Council of Economic Advisors, the sources said, speaking on condition of anonymity because they were not authorized to speak publicly for the president-elect.
Other suggested the possibility of a less conventional pick, perhaps a Wall Street name such as J.P. Morgan Chase chief executive Jamie Dimon. One industry source said the campaign talked to Dimon about the possibility several weeks ago. During one of the presidential debates, Obama suggested he would like to see billionaire investor Warren Buffett take the job. But Geithner and Summers appear the most likely picks.
Transition plans are already underway for the departure of Treasury secretary Henry Paulson, who has made it clear he will leave his post in January. Paulson's decision adds an element of uncertainty to the direction of the $700 billion rescue package recently passed by Congress. The next treasury secretary will have wide latitude and sweeping authority under the rescue package and could well bring a much different approach to Wall Street's problems than Paulson, several market participants said. Geithner was among those working closely with Paulson in the early stages of the financial crisis, and his selection could signal a bid for continuity.
Before the change in administration, the Treasury Department is expected to announce new programs that would inject capital into a broader range of U.S. companies and that would aid homeowners struggling to keep up with their mortgage payments. But Treasury officials are not eager to announce initiatives that might be reversed by the incoming administration, and have been in constant communication with Obama's camp about their plans.
Developments are also underway in Congress, where Democrats are working on a stimulus package worth about $100 billion that may be considered when lawmakers return to Washington Nov. 17. Alternatively, House leaders could urge the Senate to take up the $61 billion package that the House passed in September, House Speaker Nancy Pelosi, D-Calif., said Wednesday. About half of the money in that package would go to roads, bridges and other public works projects in an effort to create jobs. It also would expand unemployment benefits, increase spending on food stamps and offer aid to state governments battling to close their own budget gaps.
Whether Congress considers a new stimulus package this month or in January will depend at least in part on the Bush administration, which has threatened to veto Democratic proposals in the past. Now, Obama will have to decide whether to weigh in, bearing in mind the $1 trillion or higher budget deficit he is set to inherit and the broad consensus that, despite the mounting debt, it may need to grow even higher to stave off recession.
Transition efforts are also underway in the other most pressing arenas - national security and foreign policy - that Obama will soon control. The Pentagon has launched a robust political transition effort, seeking to minimize disruptions during the first wartime presidential transition in 40 years, according to senior Pentagon officials.
Defense secretary Robert Gates met with the senior Pentagon leadership and "charged everyone to make sure we don't drop the baton, and to be as collaborative and helpful as possible," said Pentagon spokesman Bryan Whitman.
Pentagon officials have cleared office space with computers and phones for dozens of Obama transition team members, anticipating as many as 50 aides will soon arrive and, in the words of one officer, "occupy the building."
The Bush foreign policy team also moved quickly to try and assure Obama a smooth transition. In a letter to CIA employees, Gen. Michael Hayden wrote that the agency has "two sets of consumers" - the Bush administration and President-elect Obama.
"Through expanded access, greater than what he had in his briefings as a candidate or as a Senator, he will see the full range of capabilities we deploy for the United States," Hayden wrote to his staff. Those briefings will begin Thursday when he receives a briefing from Director of National Intelligence Mike McConnell.
Copyright 2018 The Lawrence Journal-World. All rights reserved. This material may not be published, broadcast, rewritten or redistributed. We strive to uphold our values for every story published.