Photo Gallery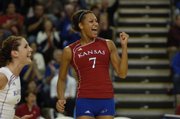 KU volleyball vs. Colorado
The dust pan and broom disappeared into the depths of a Horejsi Center closet for awhile, but Wednesday evening marked the return of both for Kansas University's volleyball team.
The Jayhawks finally had themselves a good, clean sweep.
Kansas took down Colorado, 3-0, (25-13, 30-28, 25-17) exactly two months and 20 matches since its last straight sets victory.
"We were in the locker room and I'm like, 'Yes we didn't have to go to five,'" said middle blocker Natalie Uhart, KU's sixth-year senior. "I feel like I'm 12 years old because I have a lot of energy."
KU improved to 11-12 overall and 5-9 in Big 12 play, climbing into a ninth-place tie with Texas A&M.;
"That was the growth I saw tonight," KU coach Ray Bechard said. "KU played great in game one. How do you back that up with another game?"
By surviving a lengthy and wild second set, never wavering despite a near collapse.
The second set took so long, KU actually ran out of substitutions by the end. That meant both Jenna Kaiser and Paige Mazour each served for the first time all season. At one point, defensive specialist Melissa Grieb ran down the sideline to enter the game and serve for Kaiser on a set point, but Bechard pulled her back. With no subs, a team delay would have occurred, slowing the Jayhawks' momentum.
"That's why I kind of did the doe-si-doe with her so she wouldn't run up past that line," Bechard said.
Kansas skated by anyway, despite blowing seven set points.
The Jayhawks finally snapped a 28-all tie on Uhart's kill to the back right corner of the court. Finally, on KU's eighth set point, Colorado's Amber Sutherland failed to get her spike attempt around the inside of the antenna.
Kansas had a 2-0 lead and plenty of confidence.
"You can't train for situations like that," sophomore Karina Garlington said of the substitution problem. "That was one where you had to gut-wrench it out and just make it happen."
Garlington, the Jayhawks' kills leader all season, played even more actively than usual against the Buffaloes (12-10, 6-7). By design, Bechard moved her into different positions around the net to get her more swings. She took 43, recording 20 kills.
She had some extra motivation, too. Garlington hails from Denver, not far from the CU campus in Boulder.
The victory was all the more impressive considering the Buffaloes' performance in their previous match - a 3-1 shocker against then No. 2 and 21-0 Nebraska.
"That's huge for us," Garlington said. "Just like mentally thinking about that. Anybody can beat anybody. If we they can beat Nebraska, we can beat Nebraska."
Next, however, Kansas takes on last-place Texas Tech at home on Saturday.
Copyright 2018 The Lawrence Journal-World. All rights reserved. This material may not be published, broadcast, rewritten or redistributed. We strive to uphold our values for every story published.