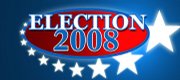 In-depth coverage of the candidates and the issues, all leading up to the Aug. 5 primary and the Nov. 4 general election.
Topeka — Republicans put a target on Nancy Boyda moments after she beat incumbent Rep. Jim Ryun in 2006.
Their campaign to reclaim the 2nd District ended with Lynn Jenkins' victory Tuesday night.
Officials with both parties said Wednesday that the Democrat set her own defeat in motion by shunning outside assistance and cash to mount a vigorous defense of the freshman's seat in Congress.
Jenkins, a two-term state treasurer, beat Boyda by more than 14,500 votes in the 26-county district. In addition, two third-party candidate drew close to 5,000 votes apiece.
Boyda was the only Kansas incumbent to lose Tuesday and only one of four Democratic freshmen nationally to be defeated.
The dynamics that swept Boyda into office shifted in 2008. In 2006, voters were angry with Congress and its complicity in the Bush administration's decision to go to war in Iraq while ignoring domestic issues.
Boyda ran an aggressive, independent campaign that argued Ryun had forgotten his constituents and change was needed.
Boyda tried the same tactics this year, but as Kansas GOP executive director Christian Morgan observed Wednesday, "she made the mistake of thinking people voted for Nancy Boyda and not against Jim Ryun."
Jenkins had mounted successful races for treasurer in 2002 and 2006, becoming a familiar name with district voters. Boyda outpaced her in Atchison and Crawford counties, two of the five she won Tuesday.
Dan Watkins, a Lawrence attorney and longtime Democratic activist, said that Boyda didn't adequately address "Jenkins' obvious failings as treasurer."
Finally, Morgan said, Boyda was caught in the trap of feeling compelled to deny every allegation leveled by the GOP.
"When you are explaining, you are losing," he said.
Copyright 2018 The Associated Press. All rights reserved. This material may not be published, broadcast, rewritten or redistributed. We strive to uphold our values for every story published.