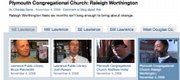 Voters throughout Douglas County share their Election Day thoughts.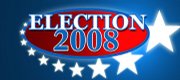 In-depth coverage of the candidates and the issues, all leading up to the Aug. 5 primary and the Nov. 4 general election.
-->
-->
-->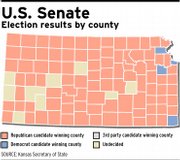 Topeka — Republican Sen. Pat Roberts' image as a Kansas political fixture with a record of bringing home federal funds carried him to a comfortable victory Tuesday night over Democrat challenger Jim Slattery.
With 93 percent of precincts reporting, Roberts had 60 percent of the vote.
"It's a great honor. It's a humbling honor," Roberts said. "I'm looking forward to the next six years. My line is 'you ain't seen nothing yet."'
Asked if this was his final term, the 72-year-old senator said, "My word, that is six years down the road. I might be playing for the K-State defense."
Roberts was the favorite in a GOP-leaning state where a Democrat hasn't won a Senate race since 1932. He also raised 3 1/2 times as much money as Slattery - more than $5.2 million by mid-October. "We fought the good fight and came up short," Slattery said. "I congratulate Senator Roberts and his team. They did an outstanding job and won."
Slattery blamed his loss mainly on being outspent by Roberts. "The bottom is when you have such a tremendous money advantage, you just can't overcome that. That was the major difference," he said. "I don't anticipate running for public office again."
Roberts pointed to numerous projects for which he helped secure federal dollars, including highway improvements, flood-control projects, a new Command and General Staff College center at Fort Leavenworth and a bioscience center at Kansas State University that bears his name.
But Slattery, a Washington lobbyist and former 2nd District congressman, suggested Roberts was on the wrong side of the biggest issues facing the nation.
Slattery called the Iraq war a "trillion-dollar mistake." Roberts began a four-year stint as Senate Intelligence Committee chairman just before the U.S.-led invasion in 2003, and he supported the war.
He also said two laws deregulating the financial industry, supported by Roberts, were largely to blame for the current economic meltdown. Roberts blamed faulty lending practices by mortgage giants Fannie Mae and Freddie Mac.
Roberts has worked in Washington for more than four decades, starting as a congressional aide. He represented the 1st District of western Kansas in the House for 16 years before winning his Senate seat in 1996.
Copyright 2018 The Associated Press. All rights reserved. This material may not be published, broadcast, rewritten or redistributed. We strive to uphold our values for every story published.