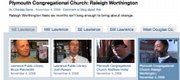 Voters throughout Douglas County share their Election Day thoughts.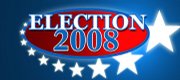 In-depth coverage of the candidates and the issues, all leading up to the Aug. 5 primary and the Nov. 4 general election.
Photo Gallery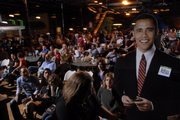 Election night in Lawrence
-->
-->
-->
Topeka — An openly gay candidate failed Tuesday night to unseat a conservative member of the State Board of Education. But control will remain with Democrats and moderate Republicans, probably sparing the state a battle over evolution.
When the board convenes in January, the moderate coalition will have at least their current 6-4 majority, and it could wind up with a 7-3 edge.
Elected were two Democrats and a moderate Republican, while another Democrat led with half the vote counted. They will join the one Democrat, two moderates and two conservatives who weren't up for re-election.
Republican Kathy Martin, of Clay Center, defeated Democrat Christopher Renner, of Manhattan, with 59 percent of the vote to keep her seat from the 6th District. She advocated support for now-repealed science testing standards that included material skeptical of evolution.
"Praise the Lord, my God. He is in control," she said.
In the 4th District, Carolyn Campbell, of Topeka, had 56 percent against Robert Meissner, of Topeka, with half the votes counted.
Democrat Sue Storm, of Overland Park, defeated moderate Mary Ralstin, of Shawnee, in the 2nd District. Democrat Walt Chappell, of Wichita, defeated conservative Dennis Hedke, also of Wichita, in the 8th District, and moderate Republican David Dennis, of Wichita, won against Democrat Paul Casanova, of Andover, in the 10th District.
In Martin's district, a Martin supporter sent an e-mail to 26 newspapers late in the campaign pointing out Renner's homosexuality and suggesting he would use a seat on the board to promote gay rights in classrooms. Renner, who never hid his orientation, decried it as an attempt to avoid the real issues.
As the balance of power has fluctuated on the board, the state's science standards have changed four times in the past decade. The standards are used to develop standardized tests that measure students' knowledge.
Evolution's critics have prevailed twice and Kansas became the butt of international ridicule over the issue.
A conservative majority deleted most references to evolution in the standards in 1999, but the next year voters gave control of the board back to a coalition of Democrats and moderate Republicans. That led to the restoration of evolution-friendly standards.
Conservatives regained their majority in 2004 and rewrote the standards the following year. That resulted in another election backlash in 2006, when the moderate bloc regained control and returned to evolution-friendly standards.
State law requires the board to review the standards again by 2014, but it could do that earlier if it chooses.
Copyright 2018 The Associated Press. All rights reserved. This material may not be published, broadcast, rewritten or redistributed. We strive to uphold our values for every story published.