Photo Gallery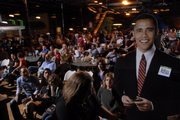 Election night in Lawrence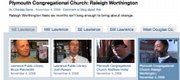 Voters throughout Douglas County share their Election Day thoughts.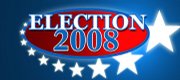 In-depth coverage of the candidates and the issues, all leading up to the Aug. 5 primary and the Nov. 4 general election.
-->
-->
-->
Topeka — Democrat Carolyn Campbell, considered a moderate, defeated Republican Robert Meissner in the State Board of Education District 4 race.
Campbell had 55 percent to Meissner's 45 pecent for the district that includes much of Douglas County.
In Douglas County, Campbell received a hefty majority, 68.7 percent of the vote to Meissner's 31.3 percent, or 21,966 to 10,025.
Campbell will replace Democrat Bill Wagnon, who did not seek re-election.
Campbell served on the Topeka school board for 12 years, while Meissner served on the Shawnee Heights school board for 12 years too.
Both said funding was the biggest challenge facing schools and both said changes need to be made in the No Child Left Behind Act, which pressures teachers to "teach to the test," as Campbell put it.
Meissner called the law "noble legislation," but "I don't think the federal government got it right the first time."
On the issue of evolution, Campbell said she unequivocally wanted to keep intelligent design and creationism out of science classes. Meissner agreed, though he said in an Oct. 20 debate at Free State High School that other theories could be presented if the scientific community agrees on the merits of alternative theories.
"The litmus test for me is scientific credibility," he said. Meissner drew the support of board members and organizations that had supported science standards critical of evolution.
Copyright 2018 The Lawrence Journal-World. All rights reserved. This material may not be published, broadcast, rewritten or redistributed. We strive to uphold our values for every story published.