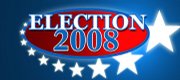 In-depth coverage of the candidates and the issues, all leading up to the Aug. 5 primary and the Nov. 4 general election.
Breaking Political News
Want to be among the first to know about news on the Nov. 4 election? As soon as results are in, or whenever breaking political news happens, the news will be in your e-mail or on your cell phone - you choose.
Topeka — Gov. Kathleen Sebelius, who has spent months campaigning for Democratic presidential hopeful Barack Obama, cast her vote Tuesday and talked about Obama's Kansas ties.
"I like to remind people that Barack Obama may have been raised in some exotic locations, but he was raised by Kansas women," Sebelius said to reporters outside her polling place at Presbyterian Manor.
"His mother and his grandmother came out of this state; those are the values he has," she said. "I think he has a strong connection to this state, and that kind of set his moral compass and set his path."
And Sebelius said Kansas' motto. "To the stars through difficulty," reflects Obama's campaign.
Even so, Sebelius said, she expects a majority of Kansas voters to support Republican presidential nominee John McCain.
A Democratic presidential candidate hasn't won in Kansas since President Johnson in 1964. Sebelius said she believes Obama will do better than recent Democratic nominees John Kerry, Al Gore and Bill Clinton, all of whom lost the state by large margins.
Talking to reporters, Sebelius declined to speculate on whether she would serve in an Obama administration should he win.
"This isn't about me getting a new job. It's about all of us having a new president, and somebody who I think will be very good for Kansas," she said.
Kansas Republican Party executive director Christian Morgan has been critical of Sebelius traveling on behalf of Obama, and he continued that criticism Tuesday.
"I'm surprised she didn't vote absentee considering how often she has been AWOL from her job as governor," Morgan said.
"But I guess it's nice to have her back paying attention to Kansas, no matter how wrong she is about Obama," he said. Sebelius has defended her campaign travel, saying she has been able to do her job as governor while helping Obama. Campaign travel has been paid by Obama's campaign.
Copyright 2018 The Lawrence Journal-World. All rights reserved. This material may not be published, broadcast, rewritten or redistributed. We strive to uphold our values for every story published.