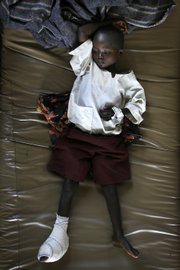 Rutshuru, Congo — The bullet pierced 5-year-old Naomi Harerimanea's back and chest, just missing her heart, but on Monday she managed to smile.
Nearby lay 1-year-old Oliva, whose hospital chart says she was hit by bullets in both legs. Her tiny feet poked out from swaths of white bandages. Not far away was 6-year-old Gervais Semutaga, wearing a colorful robe, a tentative smile on his face, his right shoulder and hand bandaged.
The children are among more than 100 wounded Congolese hospitalized in this village 55 miles north of Goma, where the U.N. says rebels have burned at least three refugee camps to the ground, sending the terrified occupants fleeing.
Theirs are the faces of some of the survivors of a rebel assault that has displaced hundreds of thousands in this region near the eastern provincial capital of Goma. It was unclear who shot these children; both rebels and the Congolese army are battling in the area.
On Monday, U.N. peacekeepers escorted a 12-vehicle aid convoy carrying medical supplies through rebel lines to Rutshuru, where the only functioning hospital was out of supplies.
The warring Congolese army and rebel leader Laurent Nkunda both assured the convoy's safe passage, said Gloria Fernandez, head of the U.N. Office for the Coordination of Humanitarian Affairs in eastern Congo.
Medical supplies and tablets to purify water for the hospital in Rutshuru were the priority in this shipment, she said. She said the other health clinics north of Goma had been "looted and completely destroyed," leaving the Rutshuru hospital as the only operating medical facility in a region of hundreds of thousands of people.
Late Monday, the U.N. Office for the Coordination of Humanitarian Affairs at U.N. headquarters in New York said an aid convoy had reached Rutshuru with its first aid and basic medicines to reopen health centers. The U.N. said some of the camps around Rutshuru had been destroyed.
In Kibati, where tens of thousands have been sleeping in the open air, refugees who haven't eaten for days cheered at the sight of Monday's convoy, the first in a week. But the jubilation turned to anger when U.N. workers unloaded only soap and plastic jerry cans for water before speeding past rebel lines to Rutshuru.
Copyright 2018 The Associated Press. All rights reserved. This material may not be published, broadcast, rewritten or redistributed. We strive to uphold our values for every story published.