Photo Gallery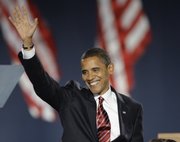 President-elect Barack Obama addresses crowd in Chicago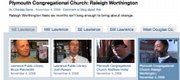 Voters throughout Douglas County share their Election Day thoughts.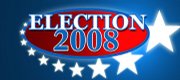 In-depth coverage of the candidates and the issues, all leading up to the Aug. 5 primary and the Nov. 4 general election.
Photo Gallery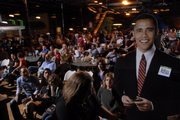 Election night in Lawrence
-->
-->
-->
It wasn't in the high 70s as predicted.
The 62 percent Douglas County turnout in Tuesday's election also lagged behind the 76 percent of registered voters who showed up at the polls for the 2004 presidential election.
But Douglas County election officials said they were still pleased with the more than 51,000 people who went to the polls or cast advance ballots.
"It's still a great turnout," Douglas County Clerk Jamie Shew said.
As he looked at the numbers Tuesday night, Shew said some precincts in the western part of Lawrence had 70 percent to 80 percent of voters cast ballots.
But it appeared precincts in central Lawrence around Kansas University had lower turnout - some totaling only 20 to 30 percent. That could be due to the high number of inactive voters who are still on the registration rolls for those areas, particularly students who no longer live here, Shew said.
Carrie Lindsey, president of the League of Women Voters of Lawrence-Douglas County, was happy with the turnout. She was also encouraged by the city sales tax questions for public transit that passed.
"The core community people who live here enthusiastically turned out," she said.
The clerk's office had prepared for a major turnout and even doubled the number of poll workers. They ran two check-in lines at the county's 67 polling sites and had a poll worker designated to handle only provisional ballots.
Things operated smoothly for the most part, Shew said.
The county only ended up with 2,204 provisional ballots compared to more than 3,000 in 2004. Those ballots were cast because there may be some question about the eligibility of a voter. Several voters also had discarded their requested mail-in ballots and went to the polls instead, but they were required to cast provisional ballots.
As long as they can prove they didn't vote twice the provisional ballot should count, Shew said.
The clerk's office will investigate the 2,204 provisional ballots and make recommendations to Douglas County Commissioners, who will canvass the election results at 10 a.m. Monday at the courthouse, 1100 Mass.
Copyright 2018 The Lawrence Journal-World. All rights reserved. This material may not be published, broadcast, rewritten or redistributed. We strive to uphold our values for every story published.