Photo Gallery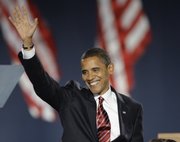 President-elect Barack Obama addresses crowd in Chicago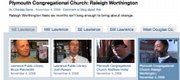 Voters throughout Douglas County share their Election Day thoughts.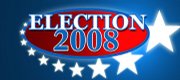 In-depth coverage of the candidates and the issues, all leading up to the Aug. 5 primary and the Nov. 4 general election.
Photo Gallery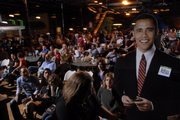 Election night in Lawrence
-->
-->
-->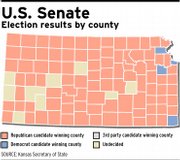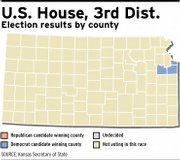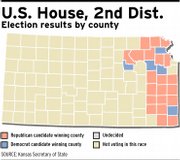 Eudora — Anthony Brown rode strong support from Johnson County to re-election in the 38h District Kansas House race.
The Eudora Republican won Johnson County over Democratic challenger Stephanie Kelton of Lawrence by a 7,784 to 4,457 vote Tuesday. Kelton had a 3,445-2,694 edge in Douglas County, but overall Brown won 10,478 to 7,902.
In addition to its Lawrence precincts, the so-called K-10 district stretches from Eudora and De Soto east to and parts of Lenexa, Olathe and Shawnee. It is estimated growth since 2000 has given the district the largest population of any House district in Kansas.
Brown said he thought voters related to him being a family man going through the same tough times they face.
Kelton, an economics professor at the University of Missouri-Kansas City, said she was pleased with her showing in Douglas County but it proved too difficult to make inroads in the traditionally Republican Johnson County precincts.
"It's such a big district," she said. "We tried to work it like you need to work it, which is to walk it door-to-door.
"It's a very tough district for a Democrat."
With his re-election to a third term, Brown said he would work to introduce "monumental" legislation in the 2009 session designed to provide uninsured Kansans with a free-market solution for interim health insurance.
Copyright 2018 The Lawrence Journal-World. All rights reserved. This material may not be published, broadcast, rewritten or redistributed. We strive to uphold our values for every story published.