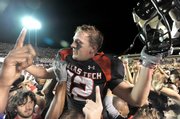 Catch your breath Big 12 football fans. There still are some more big games to come.
Texas Tech's milestone victory at home over then-No. 1 Texas with one second remaining was only the latest in a string of big games, particularly in the South division, with implications not only on the conference standings but national polls.
"Big games, the number of teams in the top 10 : it makes it very difficult as a coach," Oklahoma State's Mike Gundy said Monday during the weekly Big 12 coaches conference call. "But I'm sure as a fan, it's a lot of fun."
Gundy and his No. 8 Cowboys (8-1) go to Lubbock this week to take on the Red Raiders (9-0), who shot to second in the Associated Press poll after the 500th victory in program history Saturday night. The victory was the first for Tech over a top-ranked team.
Add in No. 5 Texas and No. 6 Oklahoma, both 8-1, and the Big 12 South has four teams with a combined record of 33-3 ranked in the top eight of the AP poll and top nine of the latest Bowl Championship Series standings. North co-leader Missouri (7-2) is No. 13 in the AP poll, 14th in the BCS.
"Right now, I do think that nationally football is more fun for fans than ever before," Texas coach Mack Brown said. "It is like we are in constant playoffs now every day. ... But it changes so much, and everybody gets so high and so low. But you've got to wait until the end."
The last-second loss ended a brutal stretch of games for Texas, following victories over Oklahoma, Missouri and Oklahoma State.
After Oklahoma State, Texas Tech has to go to Oklahoma. And there is the regular season-ending grudge match between the Sooners and Cowboys that could have much more than in-state bragging rights on the line.
"It's just incredibly competitive, particularly in our conference and especially in this division," Oklahoma coach Bob Stoops said.
Beside Texas' monthlong bonanza of big games, there also already have been key matchups between Tech and Kansas; Oklahoma State and Missouri; and Kansas vs. Oklahoma. The South teams won each of those.
Kansas (6-3), tied with Missouri atop the North standings, suffered back-to-back losses Oklahoma and Texas Tech. The Jayhawks still have to play Texas.
The Tigers and Jayhawks, though it won't be a No. 2 vs. No. 3 matchup like last year, could be playing for the North Division title in their regular-season finale Nov. 29 at Arrowhead Stadium.
Copyright 2018 The Associated Press. All rights reserved. This material may not be published, broadcast, rewritten or redistributed. We strive to uphold our values for every story published.