Photo Gallery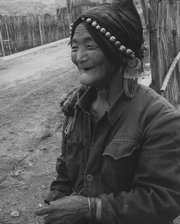 Jayhawks capture images around the world
There are orphans in Haiti, protesters in Paris, gondoliers in Italy and toddlers in Japan.
The photos represent several continents and many fond memories of travel abroad.
The annual "Picture the World" photo exhibition remains on display through the end of this week at the Art & Design Gallery in the Art & Design Building at Kansas University.
The exhibition, sponsored by the Phi Beta Delta international honor society, features more than 100 photographs taken outside the United States by 45 students, faculty, staff and alumni.
They were selected from more than 200 photos submitted in March in five categories.
Phi Beta Delta, founded in 1992, has a mission to recognize students, faculty and staff who have distinguished themselves through their participation in international education.
The show remains on display from 8:30 a.m. to 4:30 p.m. today and Wednesday, 8:30 a.m. to 9 p.m. Thursday, and 8:30 a.m. to 1:30 p.m. Friday. For more information, call the School of Fine Arts at 864-4401.
The photographs also will be on display from Nov. 10 to 24 in the gallery on the fourth floor of the Kansas Union.
Copyright 2018 The Lawrence Journal-World. All rights reserved. This material may not be published, broadcast, rewritten or redistributed. We strive to uphold our values for every story published.