Photo Gallery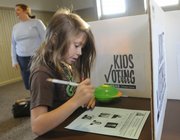 Voting in Lawrence
Lawrence residents take to the polls to cast their ballot.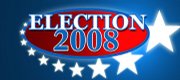 In-depth coverage of the candidates and the issues, all leading up to the Aug. 5 primary and the Nov. 4 general election.
Breaking Political News
Want to be among the first to know about news on the Nov. 4 election? As soon as results are in, or whenever breaking political news happens, the news will be in your e-mail or on your cell phone - you choose.
Sometimes, patience doesn't come easily.
Waiting in line - to buy groceries, get into a game or for a table at our favorite restaurant - can be trying.
Waiting to vote in today's election, could take even longer especially if Monday morning's advance voting line is any indicator. The line stretched out the door of the Douglas County Courthouse and down the sidewalk, where the average wait was 30 minutes.
Those who voted Monday - to avoid the long lines today - offer this advice to help bide the time:
¢ Find a baby-sitter. Charlie and Sarah Rigdon who brought their 2-year-old daughter, Bethany, suggest finding someone to watch the little ones. Bethany found a colorful leaf to play with, but that didn't last long. She wanted to get down and run around.
¢ Bring children. On the flip side, James Sharp said his 4-year-old son Jaden and 3-year-old son Dominic were keeping him entertained and occupied. He did suggest bringing "patience" along with the kids.
¢ Bring water, coffee and snacks. Graham Young would have given anything for a cup of Joe.
¢ Bring an iPod. Whitney Morgan, a junior at Kansas University, said having music to listen to would have been nice. Instead, he joked that he would just have to listen his friend Matt Bouwie, also a junior at KU.
¢ Bring a friend. Morgan wasn't alone. Many of those standing in line brought along friends or a spouse to visit with.
¢ Bring a cell phone. While many people don't want to hear your personal conversations, cell phones can be used to check the Internet, text message or even listen to music. "They can do everything," said Asia Merino, a KU sophomore. That's why she brought one.
¢ Bring a book, newspaper or magazine. Jesse Kaufman enjoyed a murder mystery by Nelson DeMille called "Plum Island" during his wait.
¢ Hit the bathroom beforehand. Karin Pagel-Meiner's advice is to take a bathroom break before heading to the polls or bring someone along to hold your place in case you have to go.
¢ Exercise. Erin Stewart was dressed in workout clothes and listening to her iPod. Instead of driving, she ran and walked to courthouse. She also avoided a parking space crunch. Smart move.
¢ Bring a small project. Jenni Smith was knitting "the world's smallest Christmas stocking." Her project fit into a small plastic bag that she carried under her arm.
¢ Meet someone new. Don't be shy while standing in line. Tom and Sherri Welsh became instant friends with Jim and Judy Walker. During their wait, they chatted about everything from children to work. "Time flies when you are having fun," Tom said.
¢ Keep cool. With high temperatures predicted in the upper 70s, you might want to bring a hand-held fan or wear lighter clothing. As Judy Walker neared the second floor of the courthouse, she was plenty warm. That's because there were a lot of people scrunched into an area with poor ventilation.
¢ Bring a sample ballot. Billie Archer used the time to look over a sample ballot, so she would know exactly whom to vote for when she got the real ballot. Sample ballots are available at www.douglas-county.com.
¢ Rest. Sandra Tempel enjoyed the nice weather and down time after a crazy 47-hour flight home from Australia on Thursday. Sometimes, it is nice to slow down and enjoy your surroundings.
Copyright 2018 The Lawrence Journal-World. All rights reserved. This material may not be published, broadcast, rewritten or redistributed. We strive to uphold our values for every story published.