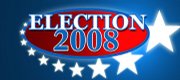 In-depth coverage of the candidates and the issues, all leading up to the Aug. 5 primary and the Nov. 4 general election.
Breaking Political News
Want to be among the first to know about news on the Nov. 4 election? As soon as results are in, or whenever breaking political news happens, the news will be in your e-mail or on your cell phone - you choose.
Topeka — Kansas Secretary of State Ron Thornburgh says if you show up to vote Tuesday, and there is some question about eligibility, you may still fill out a ballot.
"Rule No. 1, far and way above every other, is expect a ballot. Every person needs to know when they go to the polling place on Election Day they have the right to vote," Thornburgh said.
If your name isn't on the voter registration list, or you are in the wrong voting precinct, that can be settled after the election, he said.
"You can vote a provisional ballot and we will sort out the details on qualifications later," he said.
Thornburgh has predicted a record 1.36 million Kansans will vote in the election -- about 78 percent of registered voters. And three fourths of those votes will be cast ballots Tuesday.
Thornburgh urged Kansans to determine their polling place, which can be found at www.voteks.org.
People voting for the first time in a county must show identification, such as a driver's license, non-driver's ID card, bank statement, paycheck, government check, utility bill and other government documents.
He also urged voters to leave campaign buttons, pins and T-shirts at home. State law prohibits voters from displaying the name of a candidate or campaign within 250 feet of a polling place.
Polls will be open from 7 a.m. to 7 p.m. Thornburgh said the busiest times will be from 7 a.m. to 9 a.m. and 5 p.m. and 7 p.m.
Copyright 2018 The Lawrence Journal-World. All rights reserved. This material may not be published, broadcast, rewritten or redistributed. We strive to uphold our values for every story published.