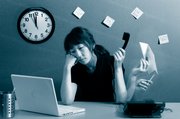 Jason Crawford was only in his 20s when he became a business owner. But he grew tired of the long hours and being away from his family several nights a month.
Today Crawford, 30, is a school teacher.
Trudy Rice spent nine years as the director of the Douglas County K-State Research & Extension service. It became difficult for her to separate her job from her personal life.
"You feel like you're working 24 hours a day," Rice says.
In September, Rice took a new job as program manager for Kansas University Continuing Education.
Crawford and Rice switched jobs and careers because they were burned out.
"My wife and I talked about it for a long time. I was gone so much," says Crawford, who started a marketing and broadcast video advertising company.
One of the key factors in dealing with job burnout is to recognize the symptoms. Rice and Crawford did that. They realized the stress they were under. An indicator of burnout is identifying so strongly with work that you lack a reasonable balance between work and your personal life, according to the Mayo Clinic's Web site, MayoClinic.com. That fit both Crawford and Rice.
The Mayo Clinic emphasizes that people should not ignore burnout symptoms. Among those symptoms:
¢ Having to drag yourself into work and then having trouble getting started.
¢ Becoming more irritable and less patient with co-workers.
¢ Having a hard time laughing.
¢ Feelings of disillusion about your job.
Those are just a few signs.
When Crawford decided to make a change, he followed his long-time passion for teaching. He obtained a Kansas Transition to Teaching program grant, which allows mid-career professionals and recent graduates to take alternative, shorter routes to teacher certification. He was hired to teach business classes at Lawrence High School.
"It (teaching) really helps you re-evaluate what you are doing, and I see it as an investment in young people," Crawford says. "I see it as an opportunity to pass on what I know."
Moreover, being able to spend more time with his family is also helping his wife with an investment in their children, Crawford says. They have one child and another on the way.
Rice says she has a personality that requires her to have a new challenge every seven or eight years. She had been working in the extension service several years before she became director.
"Many times in seven to 10 years in a position you've made some major accomplishments but it's time for some new ideas," Rice says.
Copyright 2018 The Lawrence Journal-World. All rights reserved. This material may not be published, broadcast, rewritten or redistributed. We strive to uphold our values for every story published.