Photo Gallery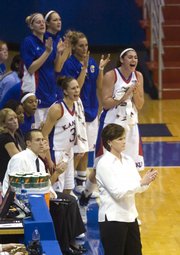 KU women's basketball vs. Fort Hays State
A scrimmage is a scrimmage is a scrimmage. Unless it's listed on the schedule as an exhibition game.
So it was officially a contest - although not much of one - as Kansas University's women's basketball team trounced Fort Hays State, 93-37, on Sunday afternoon in Allen Fieldhouse.
"We treat it like a game," Kansas coach Bonnie Henrickson said. "We put on uniforms with lights on and people in the stands just to get the jitters out."
With only one new face on the roster, the Jayhawks were basically jitter-less as they raced to leads of 10-0, 21-5, 34-8 and 47-14 at halftime.
Aishah Sutherland, the lone newcomer, didn't enter until about six minutes remained in the first half. A 6-foot-2 freshman from Perris, Calif., Sutherland had four rebounds, two points and a steal while logging 14 minutes in her KU debut.
"There were some bright spots," Henrickson said of Sutherland's performance. "It's kind of difficult for her right now, but all in all she was OK."
Sunday also was supposed to be the debut of touted freshman Angel Goodrich, but the 5-4 point guard tore an ACL during practice two weeks ago and is out for the season. Goodrich sat on the bench in street clothes.
"Angel was teary-eyed when we came out, and we expected that," Henrickson said. "But it will get better for her as the season goes along."
Fort Hays State, an NCAA Div. II school predicted to finish last in the MIAA, bricked 20 of 23 three-point attempts and finished with dreadful 25 percent shooting.
Consequently, Henrickson raised a few eyebrows in her postseason media session when she said: "Defensively, we've got to some work to do."
Asked to explain, Henrickson replied she wasn't referring to "the numbers on the stat sheet, but how we'll need to guard in the future."
That includes the Jayhawks' next and last exhibition game. It's scheduled for Sunday against Washburn, an NCAA Div. II powerhouse and a team that has given KU fits in the past.
"They'll be better," KU junior Sade Morris said in comparing Fort Hays to Washburn, "but if we do what we're told, we'll be all right."
On the whole, the Jayhawks did pretty much as they were told Sunday while following a familiar form chart.
Danielle McCray and Morris, the two leading scorers on last year's team, led the Jayhawks with 20 and 14 points, respectively. Three others were in double figures - Kelly Kohn with 13, and Porscha Weddington and LaChelda Jacobs with 10 apiece.
Copyright 2018 The Lawrence Journal-World. All rights reserved. This material may not be published, broadcast, rewritten or redistributed. We strive to uphold our values for every story published.