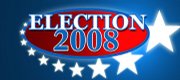 In-depth coverage of the candidates and the issues, all leading up to the Aug. 5 primary and the Nov. 4 general election.
Breaking Political News
Want to be among the first to know about news on the Nov. 4 election? As soon as results are in, or whenever breaking political news happens, the news will be in your e-mail or on your cell phone - you choose.
Kitty Pacheco keeps her car doors locked. James Dunn recalls visions of fraud in Chicago. Dorothy Westerhouse appeals to a higher power, hoping to keep her wheels safely on the road.
Sound crazy? How about you try negotiating dark streets after more than 12 hours spent taking names, checking paperwork and monitoring at-times persnickety voting machines - only now, you're ferrying the very political will of your neighbors in the back seat of your car.
Call it the ultimate democratic drive.
"It's awesome. It really is," said Pacheco, who squeezes the election materials into the back seat of her bright yellow 2003 Volkswagen Beetle. "I'm very cautious of having that responsibility."
After the polls close Tuesday night, Pacheco, Dunn, Westerhouse and 64 other supervising poll judges in Douglas County are responsible for transferring their filled ballot boxes, completed poll books and other official election essentials back to the county courthouse, 1100 Mass.
Only then can others get to work counting the votes, which will help decide who ends up representing people in the courthouse and in the White House, and which projects and services might not survive or otherwise get a chance to survive.
"I call them the unsung heroes and heroines of election day," said Jamie Shew, county clerk.
Dunn, who supervises the polling place at Plymouth Congregational Church, 925 Vt., knows he doesn't have far to go - less than a third of a mile - to deliver the votes. But that's still plenty of time to remember the importance of the task.
"Many times I think about what happened in 1960," said Dunn, who's been working polls for more than 20 years. "Ballots were lost in Chicago, and all of a sudden we have President Kennedy instead of President Nixon. That goes through my mind: an election can be turned by lost ballots.
"So I think about what's back there, in that back seat, and want to make sure it gets to the right place at the courthouse. I guard that stuff. I even watch them when they're removed from the box."
Such attention to detail is ensured in its most basic forms. Shew's transportation instructions to supervising judges includes a redundancy rule: The supervising judge may be responsible for driving the ballots to the courthouse, but he or she also must have at least one other poll worker with him.
And that other worker comes from the opposite political party.
"There's no pressure," said Joanne Hurst, the supervising judge at First Presbyterian Church, 2415 Clinton Parkway. "We know what we have to do. We're cognizant that we have the ballots. And we have Jamie's number in our cell phones at all times, in case we need it."
Westerhouse, who's been working polls in Eudora for more than 30 years, has more than a wireless device at her disposal. She calls upon her own experience, including the past eight years as supervising poll judge, to traverse the 7.5 miles.
"I just pray that I won't have a wreck - so far I haven't, and I don't expect to," said Westerhouse, who loads materials into the trunk of her Chevy Impala for the trek from the Eudora Township fire station. "I rode with the other supervising judge for enough years that it's old hat to me.
"I really don't worry about it. If I did, I probably would get gray hairs."
Never mind that Westerhouse already has gray hairs.
"Mine are all pretty much inherited," she said.
The supervising judges typically start their election days before 6 a.m., and won't be done until their boxes are safely secure on the second floor at the courthouse. In between, they earn a $100 per diem for the day's work, plus 50.5 cents per mile for the drive to the courthouse.
For Pacheco, it's not about the money. She considers the poll work at Holcom Park Recreation Center, 2700 W. 27th St., as a priceless opportunity to serve the public.
"I think it's a wonderful responsibility," she said, "and it's one that makes me feel special."
Copyright 2017 The Lawrence Journal-World. All rights reserved. This material may not be published, broadcast, rewritten or redistributed. We strive to uphold our values for every story published.