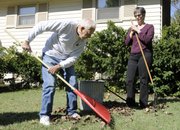 You are determined to spend Saturday afternoon ridding the yard of the crispy, dry fall leaves carpeting the grass.
After all that twisting, bending and turning, you pop a few pain relievers, get in bed and dread the soreness that will overcome your body the next morning.
Raking leaves may seem like an easy activity, but it can be strenuous and is often accompanied by aches and pains. Raking, shoveling snow and other types of yard work involve repetitive movements that can put stress on the body.
Here are some tips from Laura Bennetts, a physical therapist and owner of Lawrence Therapy Services, to keep you from getting hurt while raking:
¢ Do arm exercises before you rake.
"You can stretch your arms a little bit before you start by holding the rake out for your balance and then just stretching your arms out," Bennetts says.
¢ Stand tall while working in the yard. That will relieve stress on your neck and shoulders.
¢ Pivot your feet to avoid twisting your back - that twisting causes the majority of back injuries.
¢ Even if it is cool outside, take breaks to avoid overexertion. Keep a bottle of water or energy drink close by.
¢ Pace the work can help to reduce stress and lessen repetitive motions. Bennetts suggested raking leaves for 15 minutes, bagging them for a short period of time and then pruning bushes.
¢ For people concerned about lifting heavy objects, plastic clog-free rakes could be a good investment. Companies have also created tools to help collect leaves, including plastic handheld leaf scoopers, leaf bag holders and easy-to-maneuver collection bags.
¢ Wear proper attire, including long pants, sturdy closed-toe shoes with traction and a sleeved shirt to avoid scratches.
¢ When finished raking, stretch so joints do not stiffen. Taking a warm shower can aid relaxation.
Copyright 2018 The Lawrence Journal-World. All rights reserved. This material may not be published, broadcast, rewritten or redistributed. We strive to uphold our values for every story published.