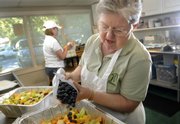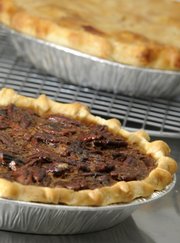 Nearly one year ago, Dianna Keller, of Lawrence, decided to change careers by transforming her garage into a catering business.
"I've always enjoyed the cooking (that comes with) big gatherings, and I felt it was exciting and challenging," Keller says. "I never dreamed in my wildest imagination that I would be doing this."
Keller had operated her day care for more than 30 years from her garage. The space was perfect for a kitchen, and now she prepares between 130 and 170 meals a week.
"I have never worked so hard in my life," Keller says.
She only requires 24-hour notice for orders, and her creations are healthy meal options for busy families and persons who can't leave their homes.
"We try to (buy) as local as possible, and as fresh as possible," Keller says.
Keller trades tomatoes from a friend in exchange for food, uses bread from Wheatfields Bakery, 904 Vt., and buys herbs and other products from The Community Mercantile, 901 Iowa, and The Casbah Market, 803 Mass.
"I like to (buy) from the small guy," Keller says.
Each month Dianna's Kitchen changes items on the menu, which has around seven complete meals for $8 each. The September menu consisted of salads, sandwiches, casseroles, and Mexican- and Italian-inspired dishes.
"My focus is just making sure that whatever product we send out of here is good quality," Keller says.
Dianna's Kitchen also supplies Signs of Life, 722 Mass., with sandwiches. The pork tenderloin sandwich is the top seller. The coffee shop started selling several different sandwiches in July, and Keller brings fresh products to the coffee shop twice a week.
"Our previous supplier was in Kansas City, and with gas prices she wasn't able to continue (making the trip to Lawrence)," owner Clay Belcher says. "They're excellent sandwiches."
Keller is committed to serving quality foods to her customers and designs specific meals for clients.
"You try to cater to those who are good to you," Keller says.
Copyright 2018 The Lawrence Journal-World. All rights reserved. This material may not be published, broadcast, rewritten or redistributed. We strive to uphold our values for every story published.