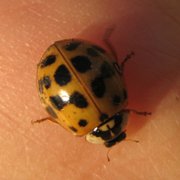 Those pesky Asian lady beetles are back.
The beetles are looking for a place to hibernate. Once successful, they like to invite their friends.
"They won't reproduce, but they send out a pheromone that tells all of the other lady beetles that they have a good place to stay," said Jennifer Smith, horticulture agent with Douglas County's K-State Research and Extension office.
While it has been warm outside, shorter days are signaling that winter is near and telling the beetles they had better find a tiny, dark crevice to hide in. Once settled, they likely will remain there until they depart next spring in search of food.
"In Asia - their native habitat, they look for caves and they go into the hills. So here, they are finding houses and structures," Smith said.
They tend to be attracted to two-story houses that have sun shining on the south or west side of the home. They also like light-colored houses in the shades of whites, grays and yellows. They also like lots of trees.
In the late 1970s, Asian lady beetles were introduced by the U.S. Department of Agriculture to help control other pests. They are most beneficial because they eat aphids, which are plant pests. Smith said the abundance of aphids is one reason the beetles are so prolific.
Pete Haley, owner of Haley Pest Control in Lawrence, said the beetles seem to be a growing problem each spring and fall. Last week, he received 10 calls within 15 minutes about the beetles. He said they were called to one new home that had about 800 beetles inside.
They are considered harmless because they don't damage a home like mice or termites, but they can bite if bothered.
"They are not too much of a threat, but they drive people crazy," he said. "When they get in your kitchen and fly in your food, that's not good."
So, how do you get rid of them?
There's only about two things you can do. Vacuum them up and release them, or call a professional. Haley said he charges about $100, depending on how many there are.
"They aren't really harmful, but they have become a pest. When you introduce non-native species, that's what you get," Haley said.
Copyright 2018 The Lawrence Journal-World. All rights reserved. This material may not be published, broadcast, rewritten or redistributed. We strive to uphold our values for every story published.