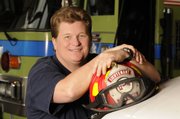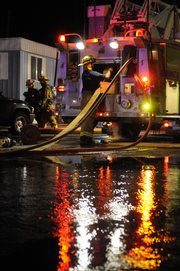 On the street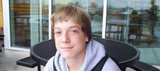 I think I could, because I would like to be able to save people's lives.
For many children, a fascination with big red firetrucks noisily barreling down the road provides at least a brief interest in a firefighting career.
We asked fourth-graders at Kennedy School what they'd like to know about being a firefighter. Then, we had firefighters Aaron Flory and Kathy Elkins answer those questions. Here's what they had to say:
1. Do you have a dog in the firefighter house? (Brandon Bermudez)
Elkins: We are not allowed to have dogs in the fire station. It would be nice if we could.
Flory: Unfortunately not.
2. How did you get your job? (Jacob January)
Elkins: I put in an application with the city of Lawrence. After that I had to take a written test, a physical agility test, and then I had a board interview and an interview with the fire chief.
Flory: I obtained training in several different areas of EMS and firefighting. Eventually, I wanted to make it a career and decided to apply with the city of Lawrence.
3. Do you feel brave after putting out a fire? (Megan Cassels)
Elkins: I don't really feel "brave." I do feel a great sense of pride in being able to do the job I do.
Flory: We train countless hours on putting fires out. It's not that big of a deal. It is what we get paid to do.
4. How many fires do you put out in a day? (Brian Freeland)
Elkins: Fires seem to happen in clusters. We can go for a while with no fires, and then we will have several in a row. It probably averages out to one a week.
Flory: Probably one a day.
5. Why did you want to be a firefighter? (Cheyenne Heffner)
Elkins: I wanted to be a firefighter because I wanted to help people and serve my community.
Flory: I enjoy helping others.
6. Is your job fun? (Jasmine Lowery)
Elkins: My job can be fun, but it can also be very sad at times.
Flory: We see a lot of horrible things, but being able to help someone makes it all worth it.
7. How does the water flow from the hose? (Phillip Afful)
Elkins: Each fire engine has a big pump in it. The pump pushes the water through the fire hose and out the nozzle.
Flory: It is pressurized by a large pump on the fire engine.
8. How many fire trucks come when there is a fire? (Alexxus Bowman)
Elkins: Different kinds of fires will get a different number of fire trucks. For example, a car on fire will get one fire truck, and a house on fire will get three fire trucks, an ambulance and a shift commander.
Flory: Usually three fire trucks and one ambulance respond to a typical residential structure (house) fire.
9. How heavy is your suit? (Shanieka Williams)
Elkins and Flory: About 65 pounds.
10. Are there girl firefighters? (Shanieka Williams)
Elkins: Yes! The first female firefighter in Lawrence was hired in 1983, and then I was hired in 1986. There are six female firefighters working for our department right now.
11. Where was your biggest fire? (Eden Tash)
Elkins: Hoch Auditorium fire on the Kansas University campus in 1991.
Flory: A.B. Coker building.
12. Do you like helping people? (Mark Duffey)
Elkins: Yes, I like helping people.
Flory: I take great pride in being able to serve this community.
Copyright 2018 The Lawrence Journal-World. All rights reserved. This material may not be published, broadcast, rewritten or redistributed. We strive to uphold our values for every story published.