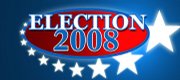 In-depth coverage of the candidates and the issues, all leading up to the Aug. 5 primary and the Nov. 4 general election.
Breaking Political News
Want to be among the first to know about news on the Nov. 4 election? As soon as results are in, or whenever breaking political news happens, the news will be in your e-mail or on your cell phone - you choose.
Photo Gallery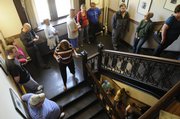 Advance voting ends
On the street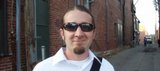 I did not. I wanted to, but I'm going to have to go wait in line.
Troy Dunnaway has good timing.
The Eudora resident and carpentry foreman for the Kansas Turnpike Authority rushed to the Douglas County Courthouse, 1100 Mass., from a Kansas City area construction site.
Dunnaway was the last person to make it in line outside the courthouse just minutes before the noon deadline to cast his advance ballot. Douglas County Clerk Jamie Shew and a sheriff's deputy had to turn away a handful of people from getting in line minutes after noon.
"I knew I'd be close to get here on time. I didn't think I was going to have time tomorrow. I figured I'd hurry and get down here today," Dunnaway said.
Shew said more than 800 people cast advance ballots in person Monday morning alone. Election workers by law had to cut off advance voting so they could prepare the poll books for regular voting from 7 a.m. to 7 p.m. today.
By the end of Monday, 18,158 people either cast advance in-person ballots or had requested a mail-in ballot since Oct. 15, Shew said. If anyone still has a mail-in ballot, they should physically bring it before 7 p.m. today to the courthouse because it won't count if it's only postmarked today, Shew said.
A total of 83,175 are registered to vote on Douglas County, so the number of people who've voted in advance or requested an advance ballot represents nearly 22 percent of registered voters.
Monday morning, the courthouse was packed with a long line that spilled outside. Some people waited for 30 to 40 minutes as election workers ran three voting lines.
The next-to-last person in line Monday said it was a good thing he made it in time. Steve Tovar, Kansas University's linebackers coach, said he has plenty of game plan preparation to do, so he wanted to cast his ballot early.
"More people are informed, and they care," Tovar said. "That's the great thing about not only Lawrence, but in the United States, that everybody has a voice no matter what your background is."
Copyright 2018 The Lawrence Journal-World. All rights reserved. This material may not be published, broadcast, rewritten or redistributed. We strive to uphold our values for every story published.