Breaking Political News
Want to be among the first to know about news on the Nov. 4 election? As soon as results are in, or whenever breaking political news happens, the news will be in your e-mail or on your cell phone - you choose.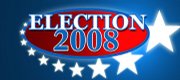 In-depth coverage of the candidates and the issues, all leading up to the Aug. 5 primary and the Nov. 4 general election.
The 2nd Congressional District, which includes west Lawrence, is at the epicenter of the national Republican-Democratic battle for control of Congress.
But neither candidate - incumbent U.S. Rep. Nancy Boyda, a Democrat, nor state Treasurer Lynn Jenkins, a Republican - is making a big deal about her party affiliation. Each needs independents and leaners to win.
Boyda won the seat in 2006, defeating Jim Ryun, a five-term Republican incumbent, in the wave that gave Democrats control of Congress.
Jenkins defeated Ryun in his comeback attempt during the August GOP primary.
Since then, Boyda and Jenkins have traded charges and counter-chargers in debates and a steady stream of campaign ads.
In her first term in office, Boyda touts her legislative results in helping military veterans and college students, curbing earmarks, and getting tougher ethics rules in place.
But Jenkins said Boyda's vote for a nonbinding budget resolution that relied on previously adopted tax cuts to expire was a vote for the largest tax increase in history. Boyda and a nonpartisan group have said Jenkins' allegation is not true. The tax cuts were approved by the formerly Republican-controlled Congress with an expiration date, and Boyda said she wants to preserve the tax cuts that affect the middle class before they expire.
Jenkins said she favors getting rid of budget earmarks and has signed a pledge not to increase taxes. But Boyda points out that Jenkins promised not to raise taxes when she was a state legislator and then voted for the largest tax increase in Kansas history. Jenkins has said she had to vote for that tax increase to help balance the state budget.
Boyda voted against the recent $700 billion financial rescue plan, and Jenkins said she would have, too.
But Jenkins has said her background as a certified public accountant would be helpful during the current economic storm. Boyda, however, has questioned Jenkins' competence, alleging Jenkins, as state treasurer, mishandled gas tax disbursements to counties, which shorted many counties, including Douglas County of $340,000. Jenkins has said a mistake in the disbursement formula was made before she took office, and that it was her staff members who finally detected the problem.
During debates, other differences emerged between the candidates. Boyda supported an increase in the federal minimum wage, while Jenkins said she would have opposed the measure. Boyda also voted to increase health care coverage to children from low-income families. When the bill was up for a vote last year, Jenkins said she wasn't familiar with it. But in a recent debate she said she would have opposed it. President Bush vetoed the measure.
Libertarian Robert Garrard of Edgerton and the Reform Party's Leslie Martin of St. Marys are also running. In addition to west Lawrence, the district includes Topeka, Manhattan and southeast Kansas.
Copyright 2018 The Lawrence Journal-World. All rights reserved. This material may not be published, broadcast, rewritten or redistributed. We strive to uphold our values for every story published.