Breaking Political News
Want to be among the first to know about news on the Nov. 4 election? As soon as results are in, or whenever breaking political news happens, the news will be in your e-mail or on your cell phone - you choose.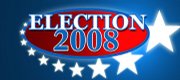 In-depth coverage of the candidates and the issues, all leading up to the Aug. 5 primary and the Nov. 4 general election.
On Election Day, voters in Douglas County - probably more so than any other county in Kansas - will help determine the course of the state and nation for the next several years.
Hotly contested races for Congress, Legislature and State Board of Education fill the ballot, in addition to several local contests.
Presidential race
The main event Tuesday is the battle for the White House.
Not many folks believe Democrat Barack Obama can break the 44-year string of Republican presidential victories in Kansas. The last Democratic presidential candidate to win Kansas was Lyndon Johnson against Republican Barry Goldwater when Johnson won the 1964 national election by a landslide.
At the Democratic National Convention in August, Gov. Kathleen Sebelius said Obama had a chance to defeat Republican John McCain in Kansas. "We could surprise the nation," she said.
But that may have been wishful thinking on her part. McCain leads Obama 58 percent to 37 percent, according to a Survey USA poll released last week.
That is similar to Democratic performance in the past two presidential results in Kansas. While squeaking out national victories, President Bush defeated Al Gore in Kansas 58 percent to 37 percent in 2000, and John Kerry, 62 percent to 36 percent in 2004.
Domino effects
But the question is what effect, if any, will Obama or McCain have on down-ballot candidates of their respective parties.
"If McCain pulls 60 percent in any particular congressional district, that creates problems for downticket Democrats," said Joe Aistrup, head of Kansas State University's political science department. "But 55 percent for McCain, and the coat-tails aren't nearly as long," he said.
A second question is what effect, if any, will Sebelius have on the outcome of the election. Sebelius is not on the ballot, but she has been campaigning nationwide on behalf of Obama, and her increasing national political stature has helped her raise money to fund Democratic candidates in Kansas.
Aistrup said Sebelius' efforts and improved organization of the Kansas Democratic Party should produce some gains in the Legislature, but the party will remain in minority status.
To Washington
Statewide, U.S. Sen. Pat Roberts, R-Kan., faces a challenge from Democrat Jim Slattery. The SurveyUSA poll had Roberts up 60 percent to 33 percent.
For Slattery, an upset victory over the better-funded Roberts would have to include a significant majority in Douglas County.
In the U.S. House, Lawrence voters will play a key role in two races - the 2nd District, which includes west Lawrence, and 3rd District, which includes east Lawrence.
The 2nd District race has been targeted by the national Republican Party after Democrat Nancy Boyda defeated Republican Jim Ryun in 2006. Will voters give Boyda a second two-year term or put the district back in the GOP column with Republican Lynn Jenkins?
In the 3rd District, voters will decide whether to return Democrat Dennis Moore to a sixth term or go with Republican Nick Jordan.
To Topeka
At the legislative level, Douglas County has become a major battleground between Republicans and Democrats.
Republicans hold substantial majorities in the Legislature - 78-47 in the House and 30-10 in the Senate.
In the 2nd state Senate district, incumbent Democrat Marci Francisco faces a challenge from Republican Scott Morgan. In the 3rd state Senate district, Republican Roger Pine's challenger is Tom Holland, a Democrat.
In House District 45, incumbent Republican Tom Sloan is being challenged by Democrat John Wilson; Democrat Stephanie Kelton is trying to unseat Republican Anthony Brown in House District 38; and in District 10, Democrat Tony Brown faces Republican John Coen in an open seat election.
State school board
In the State Board of Education contests, Democrat Carolyn Campbell faces Republican Robert Meissner for the District 4 position, which represents much of Lawrence. The contest is for the seat that will be vacated by Bill Wagnon, a Democrat.
Moderates on the board - those who support the current science standards that teach evolution - hold a 6-4 majority. Groups and individuals that support the current standards have supported Campbell, while groups and individuals that oppose the current standards have supported Meissner.
Copyright 2018 The Lawrence Journal-World. All rights reserved. This material may not be published, broadcast, rewritten or redistributed. We strive to uphold our values for every story published.