Audio Clips
2008 KU-KSU football
-->
Photo Gallery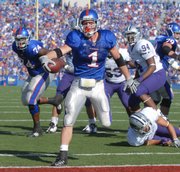 KU vs. Kansas State
How fitting that the week started with a Kansas State player talking so tall and ended with the team walking so small. What a perfect way to capture the expiring Ron Prince era. All talk. So much style, so little substance.
Listen to the man talk, and you leave impressed with his intelligence. Watch the man coach football, and you wonder why he's so eager to prove how smart he is by forgoing the obvious, traditional way to achieve success and opting for something just a wee bit cuter, a touch smarter. He could have sold New Coke brilliantly, and you would have believed in it, at least until you tasted it. Round wheels? Fine for common thinkers, but wait until you see my square-wheeled Batmobile peel out of the bat cave.
It wasn't until the very first Kansas State player touched the ball Saturday that Prince had a chance to make Mark Mangino look by comparison like the caveman from the Geico commercials.
Deon Murphy, the player who earlier in the week guaranteed he would "take one to the crib," fielded the kickoff, but it wasn't enough to simply try to return it as far as he could to give K-State field position to make something happen. No, a reverse would get more style points. Murphy handed off to Brandon Banks, who ran sideways and in reverse and left K-State with the ball on the eight-yard line, no place to try to whittle away at a one-touchdown deficit.
An appropriate start to a virtual end of a blink-and-you-missed-it era. By the end of a game in which K-State twice in the third quarter went for it on fourth-and-long inside its 30, was penalized 98 yards and could neither block nor tackle, the scoreboard showed Kansas 52, Kansas State 21.
As expected, the game plan centered on Jake Sharp (181 rushing yards and four touchdowns, 76 receiving yards), and there was nothing the Wildcats could do to stop him.
Kansas needed to mend its wounded confidence and decaying defense and in the Wildcats found the tonic. This game shaped us as one that would save one team's season and seal the other's, but who knew it would be this definitive?
Prince's regime began with such optimism. In June of 2006, when he came to his first 'Catbacker event in Lawrence, a golf outing at Alvamar, he commented on the huge turnout: "Not surprised at all. Every single event we've had this summer, we've broken the attendance record. I haven't been surprised at all by the number of people that have come out."
Memo to Alvamar pro Randy Towner: Book a tee time for next June for Texas Christian University coach Gary Patterson, a former K-State strong safety and outside linebacker.
Kansas State hasn't made a coaching change yet, but don't kid yourself, Prince's purple reign ended Saturday. It won't become official until after the season, but this was his best shot to buy himself a fourth year. He shoved all his chips to the center of the table and put them on the dully named Sunflower Showdown.
The countdown clock in the K-State locker room that ticks down to the next week's game had been set on the Kansas game all summer. Little did Prince suspect at the time that it actually symbolized the days, hours, minutes and seconds left of his job security.
Copyright 2018 The Lawrence Journal-World. All rights reserved. This material may not be published, broadcast, rewritten or redistributed. We strive to uphold our values for every story published.