Breaking Political News
Want to be among the first to know about news on the Nov. 4 election? As soon as results are in, or whenever breaking political news happens, the news will be in your e-mail or on your cell phone - you choose.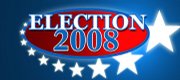 In-depth coverage of the candidates and the issues, all leading up to the Aug. 5 primary and the Nov. 4 general election.
When it comes to presidential campaign contributions, Lawrence isn't the stereotypical bastion of blue in a sea of red this election season.
Contributing to the tune of $166,800, Lawrence residents gave more to Democratic presidential nominee Barack Obama than any other city in the state. But Lawrence wasn't the only city favoring the Democratic contender for president.
An analysis by the Journal-World showed that from as far east as Arma to as far west as Goodland, more than 100 towns gave more to Obama's campaign than to Republican contender Sen. John McCain.
In a state that hasn't elected a Democratic president since 1964, Kansas contributed more to the Democratic nominee than to the Republican. According to numbers released this week by the Federal Election Commission, Obama raised $1.3 million in Kansas, and McCain brought in about $1.2 million.
Reasons for disparity
Joe Aistrup, political science professor at Kansas State University, said Obama's contributions point to his ability to energize the Democratic base and entice those who have never given to a campaign before.
"Obama compared to any other Democrat - or Republican for that matter - seems to strike the right chords with a whole lot of people," Aistrup said.
Obama's campaign also made better use of the Internet to attract donors than McCain did, said Bob Beatty, a political science professor at Washburn University.
McCain relied heavily on traditional fundraising events, where a scheduled visit by the candidate brought in supporters who then handed over their checkbooks, Beatty said. Meanwhile, the Internet allowed Obama to tap into regions of the country without visiting them.
"You can reach Parsons, Kansas, without having to pick up the phone or go on television," Beatty said.
The fundraising disparity also points to McCain's decision to accept public financing and not individual donations after the Republican National Convention.
"If Republicans in Kansas want to help out the presidential race right now, they are going to donate to the national Republican party," Beatty said.
Kansas Rep. Pat Colloton, R-Leawood, said fundraising efforts for McCain have gone well in Johnson County. There has even been a run on yard signs, she said.
Sticking to federal campaign spending limits, McCain's resources have been targeted to less reliable red states than Kansas, said Colloton, who is the third congressional district chair for Kansans for McCain.
"A lot of time hasn't been spent on the McCain campaign in Kansas. He knows he can count on us," Colloton said.
Area contributors
McCain drew the most money from Wichita. Residents in Leawood, Mission Hills and Shawnee also contributed more to his campaign than Obama's. Along with Lawrence, Obama's campaign raised more in Topeka, Overland Park, Olathe and Manhattan.
Thousands of Kansans living in almost 300 towns and cities donated money to this year's presidential elections.
Overall, Kansas gave more to the entire swath of Republican contenders during this election season. The state gave $2.3 million to Republican candidates compared with the Democrats' $1.7 million.
Early on, Kansans strongly supported home-state favorite Sen. Sam Brownback, contributing $434,000 to his campaign before he dropped out last October.
The $1.1 million that McCain garnered isn't bad for Kansas, Aistrup said, but noted McCain wasn't able to excite the Republican base - and in particular its conservative wing - as much as President George Bush did in 2000 and 2004.
"There were many Republicans just unmotivated to give to McCain. He doesn't float their boat, so to speak," he said.
Come Tuesday, neither political science professor predicts Kansas votes to follow the money. Aistrup sees McCain carrying somewhere between 55 to 57 percent of the vote in Kansas.
Beatty guarantees McCain will win the state and believes Obama's campaign would consider it a moral victory if they came within 10 points of him.
Copyright 2018 The Lawrence Journal-World. All rights reserved. This material may not be published, broadcast, rewritten or redistributed. We strive to uphold our values for every story published.