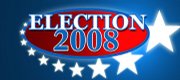 In-depth coverage of the candidates and the issues, all leading up to the Aug. 5 primary and the Nov. 4 general election.
We know you're interested in up-to-the-minute, local election coverage, and we're committed to delivering it to you on Tuesday.
Online at LJWorld.com and on 6News Lawrence, we'll be providing you with results, analysis and news from the minute the polls open until the last ballots in Douglas County are counted.
At LJWorld.com, starting early Tuesday morning, you'll find an interactive feature that allows you to see what's on voters' minds. Our reporters will visit with voters at all 67 polling places in Douglas County. On our live Election Day blog, we'll also track turnout, delays and any election day problems that might impact your ability to vote.
Plus, as information comes into the newsroom from our wire service partners around the country, we'll post that to the blog.
And then, once the polls close, you can expect to see results from every precinct in Douglas County - as well as results across Kansas - on interactive maps right on our homepage.
Join 6News Lawrence live starting at 8 p.m. On TV, we'll have up-to-the-minute local and state election results, live interviews from the Douglas County Courthouse with local candidates and with statewide candidates from the Democratic and Republican headquarters in Topeka.
If you want to get more involved in the process:
¢ Blog on our reader blogs or e-mail editor@ljworld.com with your experiences at the polls.
¢ Take part in our live, online chat with former Lawrence mayor and Kansas University public administration professor John Nalbandian. Nalbandian will be on TV analyzing the results with reporter Mark Fagan. Together they'll answer the questions you submit. To submit a question in advance, log on to LJWorld.com/chats. And then, tune in or log on to see whether your question was answered.
Copyright 2018 The Lawrence Journal-World. All rights reserved. This material may not be published, broadcast, rewritten or redistributed. We strive to uphold our values for every story published.