Audio Clips
2008 KU-KSU football
-->
Photo Gallery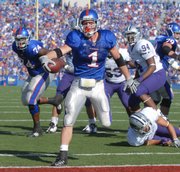 KU vs. Kansas State
After playing his entire freshman year at tight end, Russell Brorsen was switched to defensive end by Kansas coach Mark Mangino the next season.
The reason?
"I got moved back probably partly because of my horrible hands," Brorsen said with a smile after KU's 52-21 victory over Kansas State on Saturday at Memorial Stadium. "I got one pass thrown to me at tight end, and I dropped it, and I never got another ball thrown to me."
One would never guess Brorsen's receiving skills were a weakness after watching Saturday's game against Kansas State.
Brorsen came away with two interceptions of the Wildcats' Josh Freeman, a rare feat considering Brorsen is a defensive end.
"When you're dropping back in coverage as a D-end, you're hoping to maybe break up a pass or get in the way," Brorsen said. "To actually catch the ball is great."
Brorsen's first interception came with some help from fellow defensive lineman Jake Laptad, who hit Freeman as he was throwing.
The 6-foot-4, 240-pound Brorsen just had to wait for the wobbly pass to come down, cradling it before returning it 13 yards.
"It was awkward, him catching it," KU safety Darrell Stuckey said with a laugh. "I don't know how he got it in his hands. I think it was his chest and his wrist that caught it, but, hey, he did what it took to get the ball in his hands."
Brorsen said his tight-end instincts didn't exactly kick in during the return.
"You kind of look at your hands and realize you have the ball. You don't practice what to do with it, so you just kind of take off down the sideline," Brorsen said. "It's kind of a whirlwind once you get the ball as a D-end."
The second interception came on a more athletic play by Brorsen. He broke to the football, then extended into a dive to make a catch on Freeman's errant throw.
"He's not flashy, he's not the biggest guy, but you can't fool him," Mangino said. "He's a brilliant guy. When I say brilliant, not only with school books, he has what you call street smarts and football smarts. He knows how to play the game."
Brorsen has three career interceptions, all of them coming against Freeman. Brorsen also had an interception during KU's 30-24 victory over K-State last year in Manhattan.
The senior's two picks put him in a tie for second on the team, behind Stuckey.
"It's a lot of fun," Laptad said. "I like to joke around with him and tell him he can be on the 'hands' team now for kickoff return."
Copyright 2018 The Lawrence Journal-World. All rights reserved. This material may not be published, broadcast, rewritten or redistributed. We strive to uphold our values for every story published.