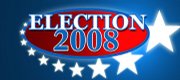 In-depth coverage of the candidates and the issues, all leading up to the Aug. 5 primary and the Nov. 4 general election.
Baldwin City — Baldwin School District voters will decide Tuesday whether a $22.9 million bond issue should be approved.
The bulk of the bond issue - about $14.6 million - would go to replace the aging Baldwin School Primary Center, which houses kindergarten through second grade. The other big-ticket item is a new performing arts auditorium at Baldwin High School at a cost of $3.7 million.
School officials have given numerous reasons why the bond issue should be passed, even during tough economic times.
"There is never a good time to propose raising taxes, but currently interest rates for municipal bonds are low," Superintendent Paul Dorathy said. "We need to remember as those rates increase, so does the burden on our taxpayers."
School officials say they also can take advantage of the current state funding given for new buildings - about 27 percent of the cost. Baldwin district taxpayers would actually be taxed for about $16.7 million.
There's no guarantee that funding will continue.
It's possible the district could receive grants totaling around $2 million if the cafeteria at the new primary center and the auditorium were built as safe rooms capable of withstanding EF-5 tornadoes. That grant money would come from the Federal Emergency Management Agency.
Other items in the bond issue include two baseball and softball fields, a practice track, replacement of the roof and heating and cooling system at Baldwin Junior High School, and technology upgrades.
School officials have said the bond issue would cost owners of a $200,000 house $243.57 in additional taxes a year.
Copyright 2018 The Lawrence Journal-World. All rights reserved. This material may not be published, broadcast, rewritten or redistributed. We strive to uphold our values for every story published.